With New York City's coronavirus numbers beginning to improve, there could be a major obstacle before the five boroughs can beat the pandemic: hundreds of thousands of residents may not get vaccinated.
In an exclusive Spectrum News NY1/Ipsos poll of 3,000 New Yorkers this month, 11% say they have no plans to get vaccinated, with another 14% saying they're unsure. Forty-eight percent said they had been vaccinated, while 28% said they planned to get a shot.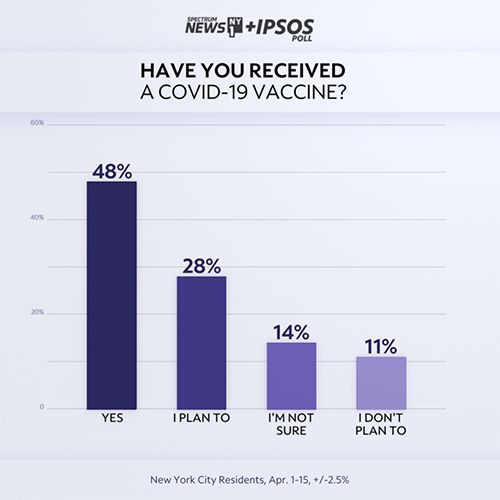 Mallory Newall, director of research at Ipsos, says New York City residents are actually less hesitant about the COVID-19 vaccine compared to the rest of the country.
"We see that the number of people that say that they definitely don't plan to receive the vaccine is about one in 10. That's a little bit lower than what we're seeing nationwide, where we see about one in five," she said.
But with so many people expressing uneasiness and an unwillingness to be vaccinated, Newall says the poll highlights continued uncertainty around the vaccines.
Taking a closer look at the numbers, 80% of male respondents said they were or planned to be vaccinated, compared with 72% of women.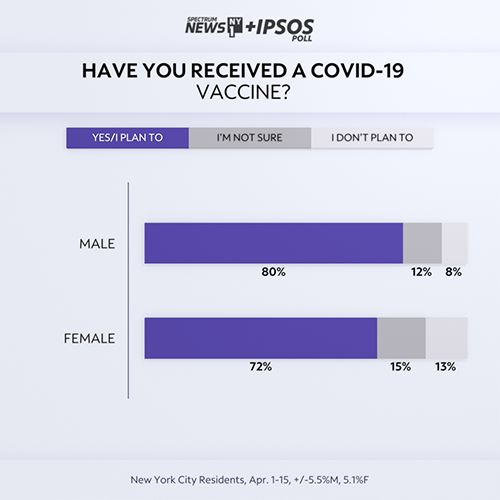 Similar to national trends, white and Asian respondents expressed strong confidence in the vaccine, while those identifying as Black or Hispanic lagged in enthusiasm.
When you look at the picture along income lines, those making $100,000 or more annually were more likely to support vaccination. There is more hesitancy among New Yorkers making $50,000 or less.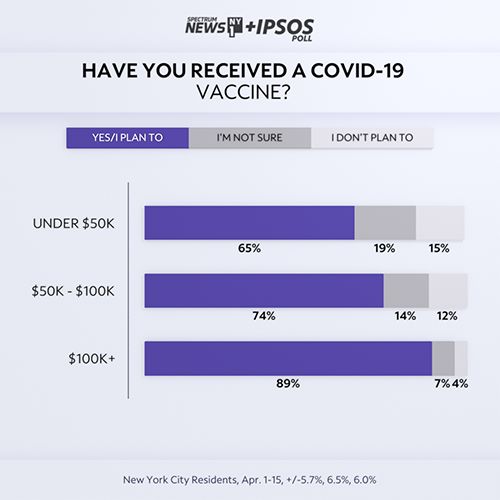 But ultimately, Newall says there is one indicator that trumps all the rest when it comes to who is or will likely be vaccinated against the coronavirus, particularly when you factor in likely voters.
"I think it basically boils down to both in New York and nationwide," Newall said, "getting vaccinated has become a highly politically charged issue. And your partisan affiliation tends to be the biggest driver of likelihood to get vaccinated, much more so than traditional characteristics that could influence your health decisions like education level or income."
Former city Health Commissioner Dr. Mary Bassett says she is optimistic about those still on the fence.
"We have a higher proportion of people vaccinated, and that's in line with the national figures. We have fewer people saying that they're never going to get it. I put the category of the 'not sure, haven't got a plan' in the wait-and-see category," said Bassett.
Dr. Bassett now serves as the director of Harvard University's FXB Center for Health and Human Rights. She says too much weight has been placed on hesitancy among Black and Hispanic Americans.
"I am a little concerned that the vaccine hesitancy among people of color has been overplayed," Bassett said, pointing to national polling showing greater hesitancy among white, conservative Trump supporters. "In many, many cases, I know, speaking from my own family and from the shift in the numbers that we've seen, the real problem was that it was just really hard to get an appointment to get vaccinated and that that's being addressed. And the numbers are showing it."
Ultimately, Bassett says getting more people vaccinated, reaching herd immunity and achieving a safe, new normal means changing the message, particularly for those who no longer trust the nation's scientific leaders.
"I think showing respect for the concerns that people have, giving them a chance to ask the questions they have and treat them as valid concerns, that is part of what we have to do instead of making people feel like they're stupid, 'You don't understand science,' 'We're the scientists, listen to us.' That has been lost," Bassett said. "And also, we need to make it clear that it's OK to look at the data and change your mind."