NEW YORK — Nearly a quarter of New Yorkers, 23%, remain vaccine-hesitant despite widespread efforts to combat the problem in recent months, our latest Spectrum News NY1/Ipsos poll found.
---
What You Need To Know
12% of New Yorkers say they don't plan to get the vaccine


11% say they're not not sure if they'll get it


23% overall hesitancy is largely unchanged from 25% in our April poll


64% say they've received at least one dose
---
That figure includes 12% of New Yorkers who say they don't plan to receive the vaccine, and 11% who are not sure if they'll choose to receive it.

The combined total is largely unchanged from our last poll in early April, when the figure was 25%.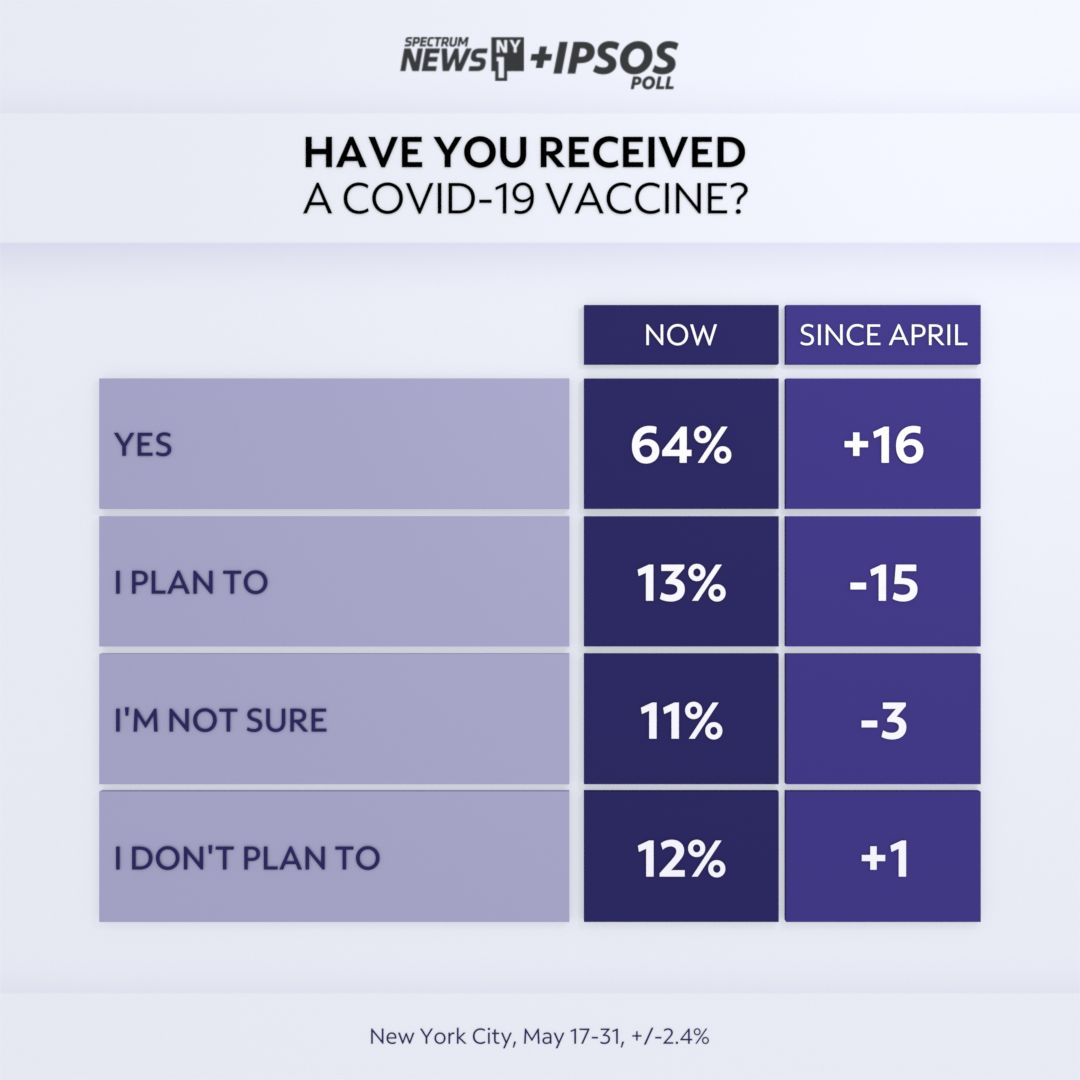 Meanwhile, nearly two-thirds of New Yorkers, 64%, said they've received at least one dose of the vaccine, including 52% who are fully vaccinated.
"This is something that we're seeing both at the national level as well as here in New York," said Mallory Newall, research director for Ipsos. "We're sort of reaching that point where mass vaccination is starting to maybe slow down a little bit."
Still, the 11% who are "not sure" would seem to indicate that minds can be changed.
"You have people that perhaps with a sustained information campaign, they could be persuaded to get vaccinated," she said.
The poll of 3,249 city residents took place between May 17 and May 31.
The NY1/Ipsos poll has a credibility interval of +/- 2.4 percentage points. The credibility interval is +/- 4.5 percentage points for likely Democratic voters.
------
Did you know you can now watch, read and stay informed with NY1 wherever and whenever you want? Get the new Spectrum News app here.
------
Looking for an easy way to learn about the issues affecting New York City?
Listen to our "Off Topic/On Politics" podcast: Apple Podcasts | Google Play | Spotify | iHeartRadio | Stitcher | RSS