We were sweating it out this summer in New York City. Temperatures did something they haven't done in more than a decade.
We had the most 90-degree days this summer since 2010. The tally was 30 days at La Guardia airport, 24 at Central Park and 16 at JFK airport. During a typical summer, we see about 15 ninety degree days.
The reason for more 90-degree days at La Guardia is that this area gets more sun than the temperature sensor in Central Park.
Overall, this ranked as the 6th hottest summer on record. This is the 5th summer since 2000 to rank in the top hottest. With all this talk about summer stats, you may be asking, "doesn't summer end on the autumnal equinox in a few weeks?" Well, not quite. Here's the story.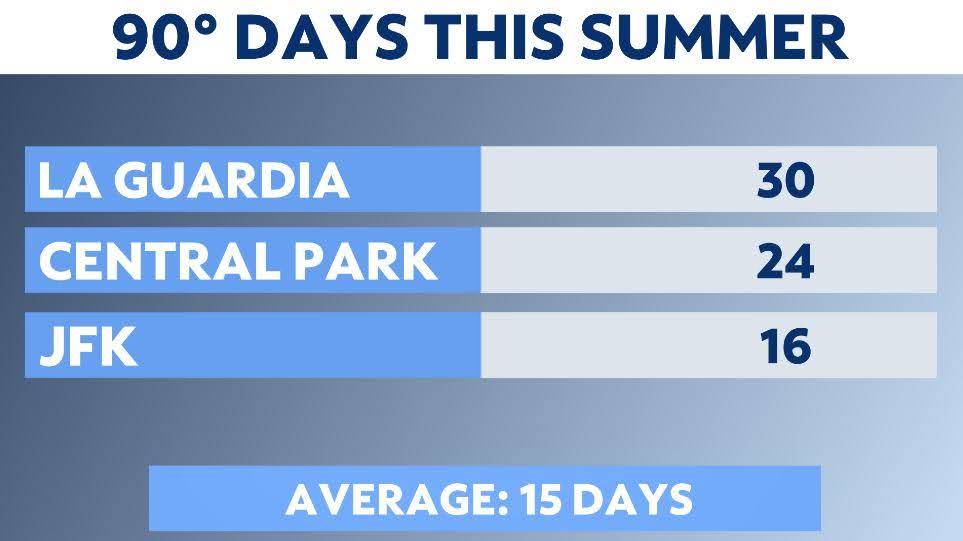 In the weather world, we track the seasons differently than how most people do. There are meteorological seasons and there are astronomical seasons. Most people are familiar with the astronomical season. Those start and end on the equinoxes and solstices.
In the science world, they track the seasons by months. Summer is June, July and August, while autumn is September, October and November. Winter is December, January and February and spring is March, April and May.
So when you hear statistics about a record winter or spring, they are referring to the meteorological seasons and not the common equinox and solstice seasons.
The reason scientists track the seasons differently is that by using months, the time in a season is always the same. The solstices and equinoxes can shift each year by a few days.
So why was it so hot this summer? The answer has to do with the lack of rain.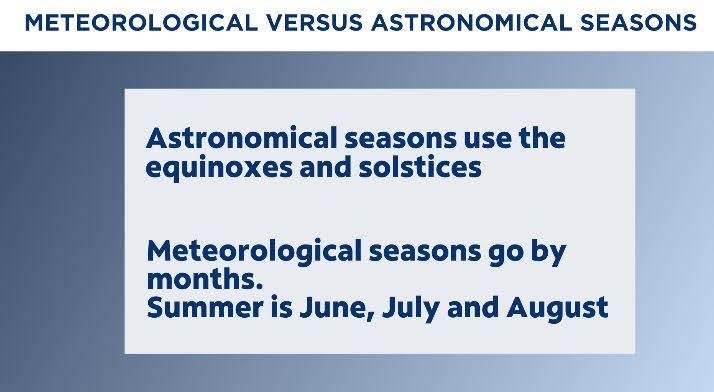 This summer was dry. Overall, rainfall was nearly four and a half inches below the average. August was especially dry with the least amount of rain for that month in New York City since 1994.
August also turned out hot. There were 11 days of 90 degrees or more and it ranked as the 4th hottest August for us in the past 153 years.
The average temperature this August was nearly identical to July, which is unusual because July is typically the hottest month of the year for New York. The lack of rain helped the heat build in August.
Dry ground takes less energy to heat than moist ground. This is because it takes more heat to warm water than just dirt or air. So as our dry streak in August intensified, so did our heat.
The dry second half of summer will probably also mean a lackluster fall foliage season for our region.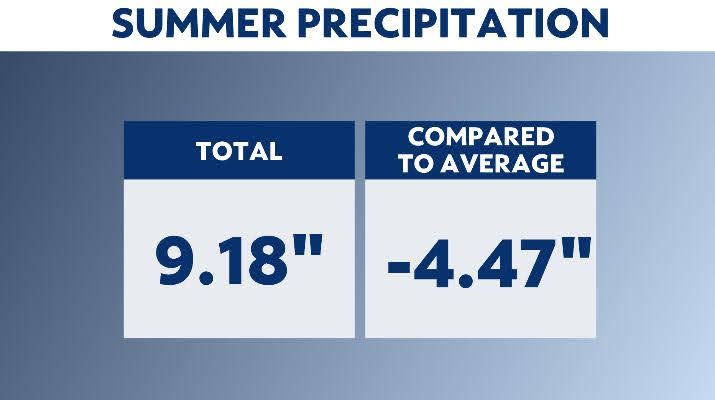 Our team of meteorologists dives deep into the science of weather and breaks down timely weather data and information. To view more weather and climate stories, check out our weather blogs section.