Temperatures in July were sizzling this year. We even set a record.
July is typically the hottest month of the year for us in New York City, and this past July lived up to that reputation. Readings hit ninety degrees or more in 10 days.
The average number of ninety degree days for a summer is 15. Overall, the monthly average temperature was nearly 80 degrees. This is 2.1 degrees above average. This ranks as the 10th hottest July for NYC in the past 153 years. Hot July's for New York City are becoming more common as our climate changes and the earth warms.
Five of the top 10 hottest July's for New York City have happened since 2010.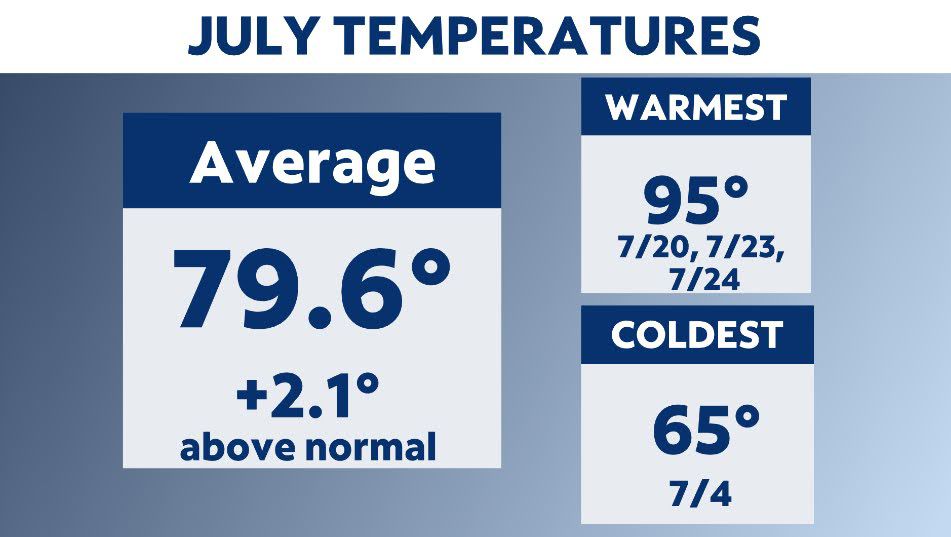 In terms of rainfall. July is typically the wettest month of the year for New York City. This July brought only eight days with measurable rainfall.
Most of these days had thunderstorms which produced bursts of rain or downpours. For the month, rainfall totaled over four inches. That ranks as slightly below average.
Rainfall just north of the city was about half of our rainfall and it had a significant impact on reservoirs. Levels are now down below 85%. That's about a drop of about 7% in just over a month. The normal for this time of year is over 90%. Also, July 4th was rain free again this year. It's been seven years since it's rained on Independence day.