NEW YORK — City Council Speaker Corey Johnson has expanded his lead in the Democratic primary for city comptroller, but a huge share of primary voters have yet to make up their minds about the race, according to the exclusive results of our Spectrum News NY1/Ipsos poll.
---
What You Need To Know
Corey Johnson leads the comptroller's race by 9 points, with 18% support


Michelle Caruso-Cabrera and Brad Lander tied for second at 9%


44% of likely voters are undecided


Our April poll showed Johnson with a 5-point lead at 14%


---
While Johnson enjoys a nine-point lead, he is the choice of just 18% of likely Democratic voters, while 44% say they're undecided. That figure was 50 percent in our last poll in April, suggesting voters have continued to tune out the race even as awareness of the mayoral primary has grown.
Former CNBC anchor Michelle Caruso-Cabrera and Brooklyn City Councilman Brad Lander tied for second place with 9%.
They're followed by Queens Assemblyman David Weprin at 7%, Brooklyn State Sen. Kevin Parker at 6%, Manhattan State Sen. Brian Benjamin at 5%, and Marine veteran and entrepreneur Zach Iscol at 1%.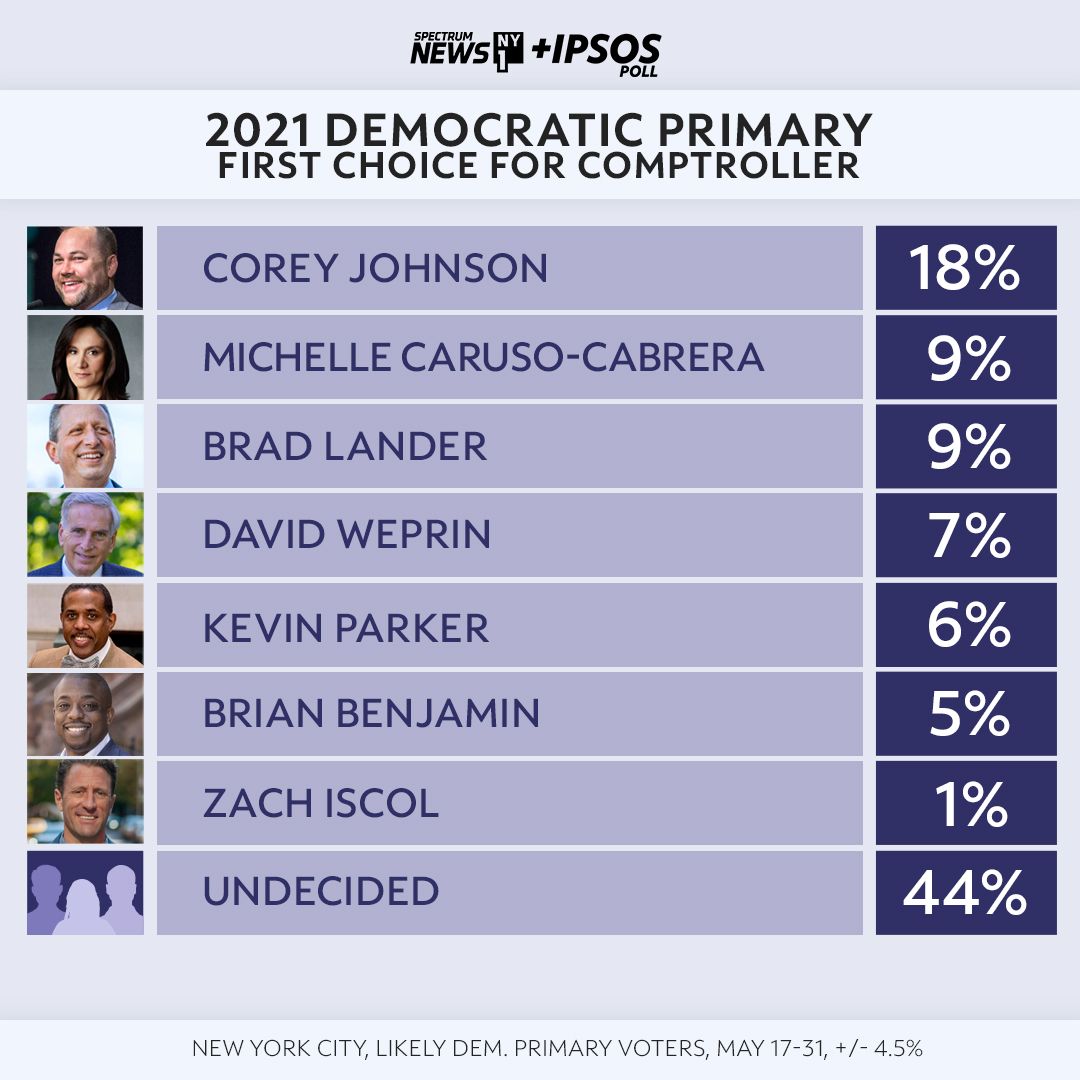 Johnson joined the primary late, in March, after abandoning a run for mayor last fall. Our last poll showed him with a five-point lead, at 14%.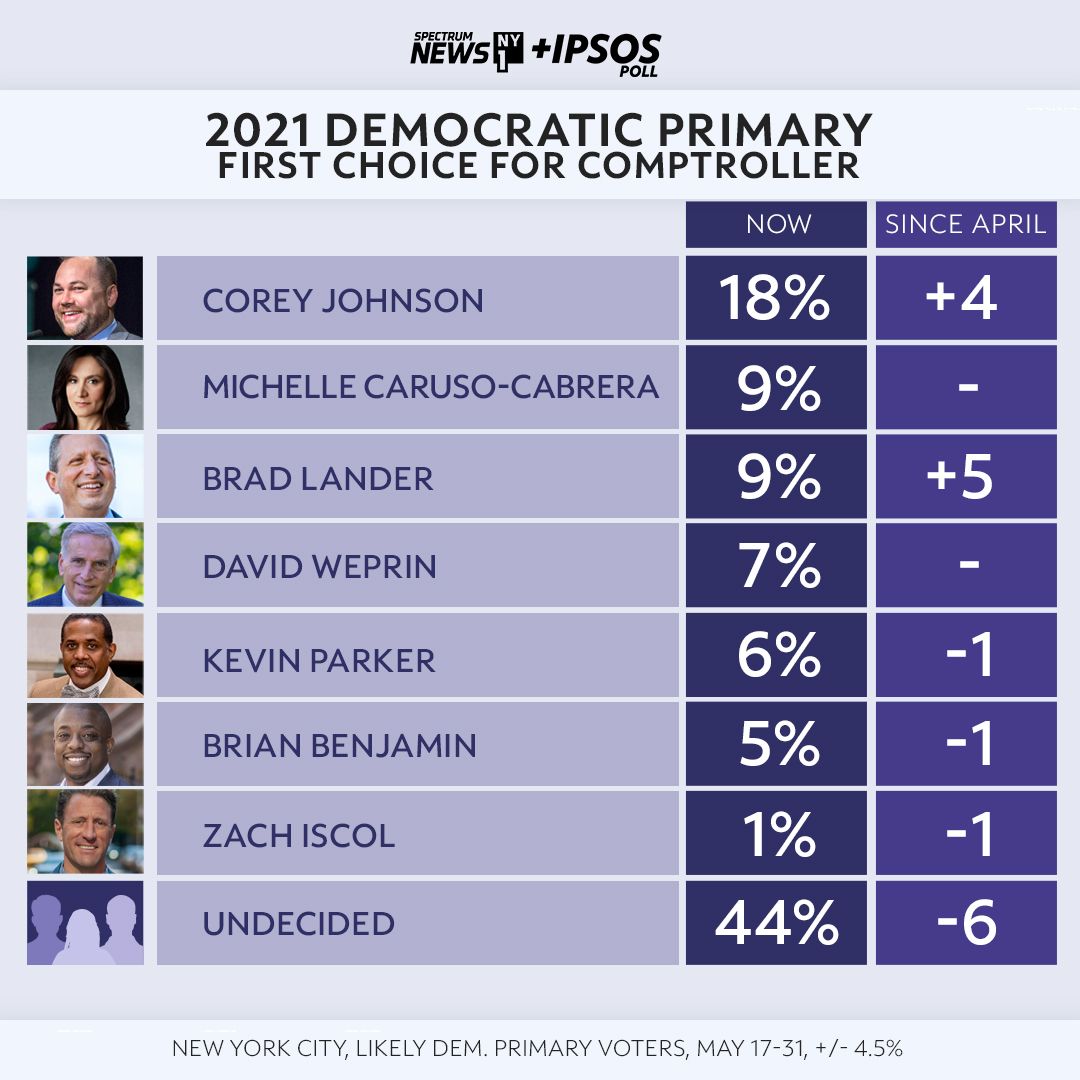 Lander has won strong support from the party's progressive wing, including endorsements from the likes of Rep. Alexandria Ocasio-Cortez and Sen. Elizabeth Warren. But our April poll showed him in sixth place, at just 4%.
His five-point jump in this poll was largest of any candidate.
The comptroller is the city's chief fiscal watchdog, with responsibility for overseeing the budget, auditing city agencies and managing public pension funds.
Our poll surveyed 906 likely Democratic voters from May 17 to May 31.
NY1 on Thursday at 7 p.m. will host a Campaign Finance Board-sponsored debate in the race for city comptroller.
The faceoff will feature eight of the leading Democratic candidates, and will be co-hosted with WNYC Radio, the online news organization THE CITY, Citizens Union, John Jay College, and the voting rights organization Social Work Votes.
NY1 Political Anchor Errol Louis will moderate the debate with Brigid Bergin of WNYC Radio and Rachel Holliday Smith of THE CITY.
The NY1/Ipsos poll has a credibility interval of +/- 2.4 percentage points. The credibility interval is +/- 4.5 percentage points for likely Democratic voters.
------
Did you know you can now watch, read and stay informed with NY1 wherever and whenever you want? Get the new Spectrum News app here.
------
Looking for an easy way to learn about the issues affecting New York City?
Listen to our "Off Topic/On Politics" podcast: Apple Podcasts | Google Play | Spotify | iHeartRadio | Stitcher | RSS