BROOKLYN, N.Y. — Three people are now facing charges in connection with a shooting Monday inside the Kings Plaza Mall in Brooklyn.
The NYPD says Timothy Briggs, 19, of the Bronx, is charged with attempted murder, assault, criminal weapons possession, criminal use of a firearm and reckless endangerment.
The other two suspects arrested have been identified as Jaheim Covington, 19, of Brooklyn and Omarion Harvey, 18, of Brooklyn.
Covington is charged with weapons possession, and both are charged with reckless endangerment.
Police say the shooting happened around 2:30 p.m. when the trio was approached by another group of six teens inside a shoe store on the first floor of the mall where they got into an argument.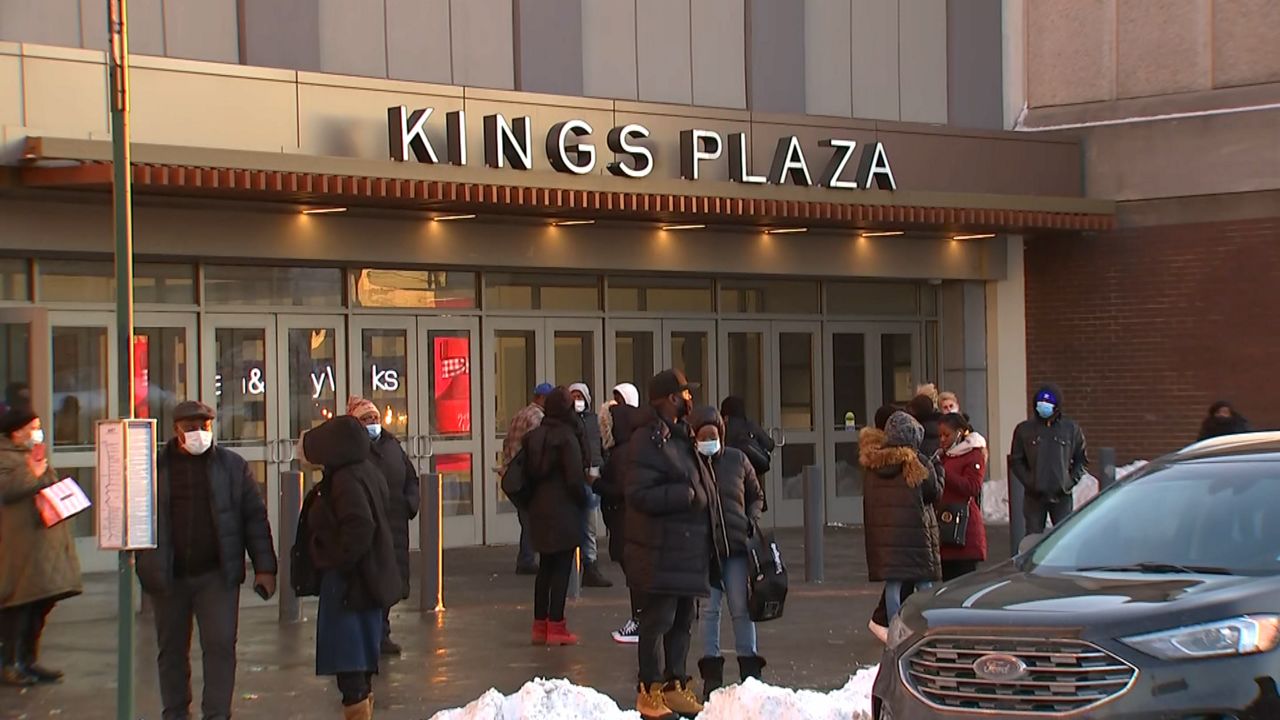 That's when, according to police, the 19-year-old gunman pulled out his weapon, fired more than 10 rounds, and ran off.
According to police, a 14-year-old was hit in the leg and taken to Maimonides Hospital, where he's listed in stable condition and expected to recover.
A 16-year-old was grazed in the leg, according to authorities, and taken to NYC Health & Hospitals/Kings County in stable condition.
"People were like, chaos, and you can imagine a place where families bring their children, families — a place where it's supposed to be safe in this cold weather," said John Williams, a minister.
"I don't know why there are guns inside of the mall, I don't know why there was shooting occurring anyways," said Destiny Brown, a shopper.
Police say they arrested the group of teens a few blocks away from the mall and recovered two guns on the spot.
At a press briefing at the scene Monday, NYPD Assistant Chief Michael Kemper said the person they believe to be the shooter has a prior criminal history.
He said the teen was arrested in Brooklyn in November after he was found in possession of four guns.
Kemper said he was indicted and is currently out of jail, though that case is still active.
"And here he is in Kings Plaza armed with another gun, firing shots in a mall which is open," Kemper said.
Kemper said he saw surveillance video from the shooting and called the gunman's behavior "outrageous."
He said the responding NYPD officers were courageous given the uncertainty of what could have unfolded at the scene.
"Imagine responding to multiple 911 calls of an active shooter inside a mall. And then race toward that mall, racing toward the unknown, to danger" he added.
Kemper says one of the other teens arrested Monday also has a criminal history.
They say he shot someone in 2019 and is also out on that case awaiting sentencing.