In a city notorious for its scarcity of space, issues around land use already tend to garner significant attention. But in District 1, debates around space, and who can access it, loom particularly large.
One of the 10 Democratic candidates vying to replace the term-limited Margaret Chin, who has represented the district since 2010, will inherit several major development proposals in the area when they take office in 2022. This includes the rezoning of SoHo and NoHo, the building of a new jail in Chinatown with the closing of Rikers Island, and replacing a community garden with affordable housing for LGBTQ seniors.
The candidates are: Gigi Li, Chin's chief of staff; Christopher Marte, who runs a political training academy and lost to Chin in 2017 by a margin of 222 votes; Jenny Low, a senior staffer in City Council Speaker Corey Johnson's office and former board chair at the Chinese-American Planning Council; Denny Salas, a Bronx school director and former stockbroker; Maud Maron, a public defender and member on the Community Education Council 2; Susan Lee, a nonprofit professional and freelance grant writer; Sean Hayes, an international attorney and law professor; Tiffany Winbush, a marketing professional; Susan Damplo, an attorney and administrative law judge; and Jacqueline Gross, an entrepreneur.
Li, Marte, Low, Maron, Lee and Winbush qualified for the city's campaign finance program, meaning they raised enough funds to receive matching funds.
The winner, who will be favored in the general election in the fall in a heavily Democratic district, will represent the neighborhoods of TriBeCa, SoHo, NoHo, the Lower East Side, Chinatown, the Financial District, Battery Park City, Civic Center, Little Italy, South Street Seaport, South Village and Washington Square.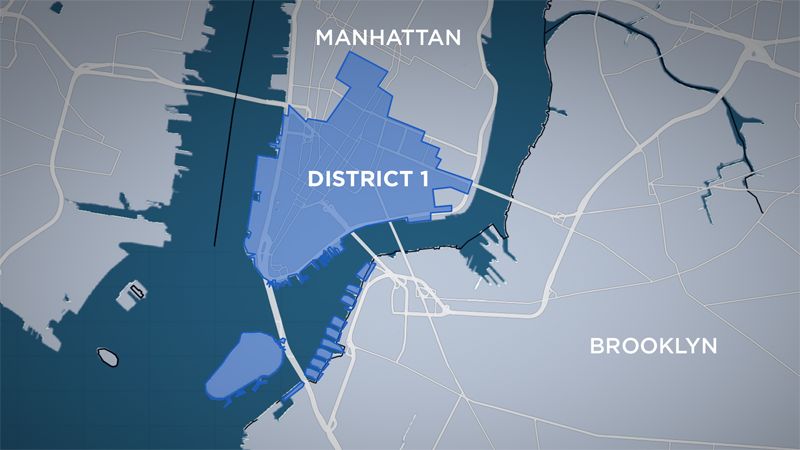 While there's no shortage of issues in the district to contend with, including school segregation, the economic fallout from COVID-19 and the surge in hate crimes against the Asian American community, land use stands out as one of the biggest challenges for the candidates.
Li said reforming the city's land use review process, known as ULURP or the Uniform Land Use Review Procedure, is her top priority.
"It is very shortsighted when it comes to comprehensive planning," said Li, who immigrated with her family from Hong Kong when she was three years old. "It doesn't take a lot of factors into consideration."
Li points to a lack of community input and technical experts to assist in the process to allow residents to better understand the ramifications of development proposals.
"It is particularly a disservice to a district that has more ULURPs than any other council district in the city," she said.
One of the biggest debates is around the rezoning of SoHo and NoHo. The city's zoning change would update land use regulations in the area — which is currently zoned for manufacturing and light industry — for the first time in 50 years. The city claims that it will become easier for businesses to open in the neighborhood and will increase affordable housing. Critics say the plan would make affluent neighborhoods even more inaccessible for lower-income residents.
Li, like her predecessor, wants to see the process move forward.
"A big part of that is because I believe in housing equity," she said. "We hear over and over again that candidates are committed to affordable housing, [that] they're committed to ending homelessness. We can't do that if we're not looking at adding affordable units to our neighborhoods."
This willingness to compromise for the sake of progress represents a stark divide between a number of the candidates. Marte, for example, takes a much firmer stance on development.
"What we've seen in the past 12 years are really bad deals," said Marte, a community activist who was raised on the Lower East Side. "We haven't seen a plan that's by the community and for the community."
In 2017, Marte's opposition to the Haven Green proposal, which would replace the Elizabeth Street Garden, a one-acre green space between Prince and Spring streets, with a residential development potentially offering affordable housing for LGBTQ seniors, was seen as a big reason for his successful showing in the 2017 race.
Though some of the other candidates claim that a stance like Marte's would impede progress in the area, he disagrees.
"There's always this false narrative of, 'We have to build bigger and higher to have more affordable housing or more give-back to the community,'" Marte said. "And when we do allow that in our district, we never get what's promised."
He points to NYU's Greenwich Village expansion and the Essex Street Crossing development. In a compromise on the former in 2012, NYU's key community giveback was to build a 100,000-square-foot public school at Bleecker Street and LaGuardia Place. In the latter, an elementary/middle school was to be built on a six-acre site formerly known as the Seward Park Urban Renewal Area. Neither of the schools have been built yet.
While Li doesn't agree with her predecessor on every proposal, including the current plan to build a new jail in Chinatown, she argues that this type of approach ignores the realities on the ground.
"It is easy to take a position based on a theoretical approach," Li.
She's not alone in this sentiment.
Winbush, a marketing professional and community organizer, clarified in an online candidate forum hosted by MNN and Gotham Gazette that while she thinks there's an urgent need to expand affordable housing, it did not mean she was "anti-development."
But she pointed to projects like the $850 million development at the South Street Seaport, a proposal that thousands of people petitioned against, as an example of developers trying to skirt around regulations like those pertaining to the historic district.
"If there are rules and regulations in place according to development, the developers need to make sure they are following those rules," Winbush said.
In the same forum, Lee advocated for a "holistic" type of development that takes community needs into account. She cited One Manhattan Square, the 800-foot-tall luxury residence glass tower, which left the Two Bridges neighborhood without a grocery store.
She also recalled the benefits to the Financial District after 9/11 when open commercial spaces were converted into housing.
"Now the Financial District is a thriving neighborhood, and I think we can do that also with some of the commercial spaces that are vacant right now," she said.
Salas, a director at the Bronx Charter School For Better Learning, considers himself a "proponent of development — period."
"We have a 700,000 affordable housing shortfall," Salas said. "If we're going to fight every single development, then we're just going to have this issue over and over again. You're not stopping displacement if you're not building more. It's a simple supply and demand issue."
A common refrain among candidates on this issue is a commitment to involving more community input than the outgoing elected officials have allowed.
"I think Bill de Blasio was trying to ram a lot of things through on his way out the door," Maron, who sat on Community Board 2 for five years, said about the city's SoHo and NoHo proposed upzoning. "And given that we've just been through a COVID year, the actual ability for communities to weigh in and be heard has been severely limited."
It's a critique that several of the candidates made of Chin's time in office, including the Haven Green proposal, which she supported despite strong community opposition.
"The current council member made this deal without consulting with anybody in the neighborhood," said Low, a senior staffer in Council Speaker Corey Johnson's office and a former banker.
Still, candidates like Li pointed to aspects of Chin's leadership, including her advocacy for seniors as head of the Committee on Aging, as efforts they'd like to continue if elected.
And while Li considers the legacy of Chin as a strength to her candidacy, she urged voters to look at the totality of her career as opposed to only the three years that she worked for Chin.
"Margaret and I are also very different people," she said. "We will also assume office at very different points in our lives with different backgrounds, and I think a different approach to community and engagement."
Marte, however, hopes that his position as the candidate with a firm stance on development that mostly runs counter to Chin will make the difference for him this time around.
"Fifty-four percent of voters voted not to re-elect Margaret [in the 2017 primary] because of what we were running on," he said. "And throughout the years, we've seen people have a greater understanding of what potential leadership can be."