On Sunday afternoon, about 300 Brooklynites gathered on a turf lawn in Park Slope for an event that combined the spirit of the city's spring reawakening with the beginning in earnest of campaign season: an outdoor candidate forum for City Council District 39.
A mostly older, mostly white crowd, many clad in closed-toed sandals and straw hats, sat on the lawn behind the Old Stone House, a reconstruction of a historic Revolutionary War site, to hear seven candidates angle for the lead in one of the city's most competitive districts.
The 39th district is a bastion of progressive politics — it was Mayor Bill de Blasio's seat, and has been occupied for nearly two terms by Brad Lander, now a leading candidate for city comptroller. The candidates agreed broadly on the major policy issues, positioning the race as a battle between the city's Democratic factions.
With multiple candidates of color, including two Muslim candidates, as well as three women vying for the seat, the district also has an opportunity to elect its first nonwhite, non-male council member — and the candidates are pushing residents to practice what they preach.
"We need to push this district on equity," Shahana Hanif, one of the candidates, said Sunday in response to a question on affordable housing.
District 39 centers on Park Slope, one of the city's wealthiest neighborhoods, which is two-thirds white. It also runs west across Gowanus and Cobble Hill to the waterfront, and south into Windsor Terrace, as well as Kensington and the top of Borough Park, home to growing populations of Muslim immigrants and Hasidic Jews.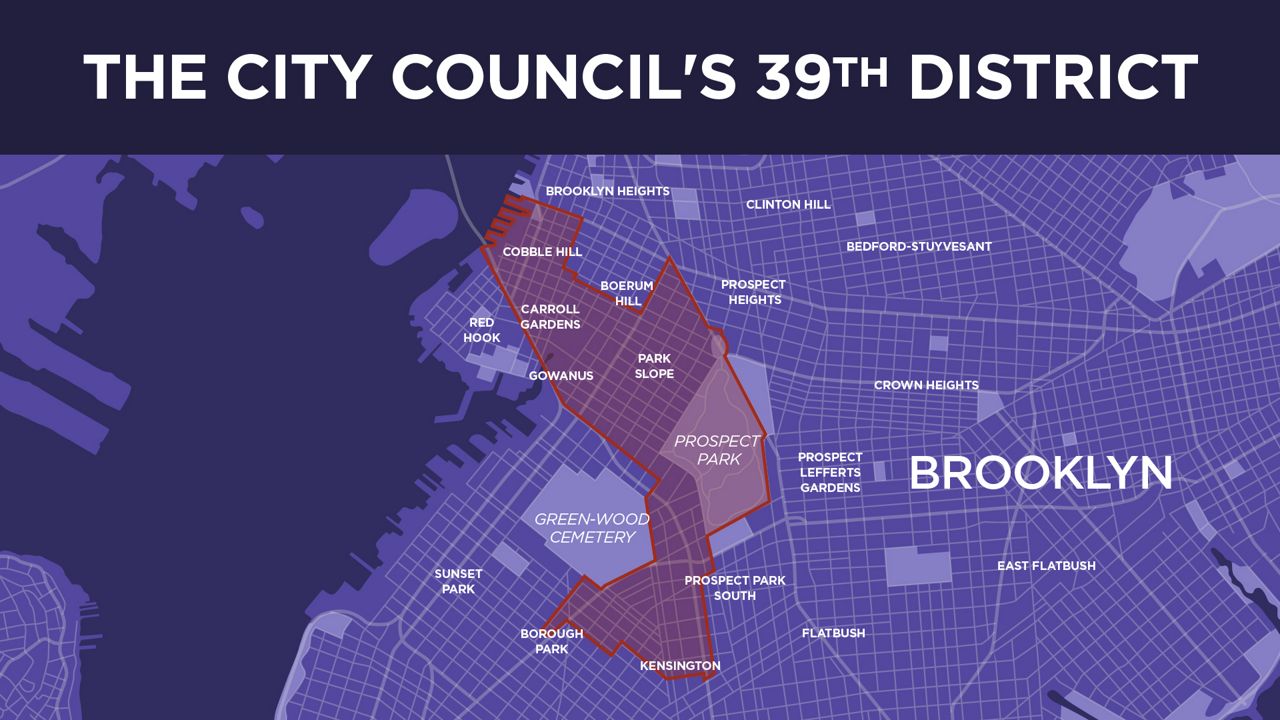 "This is a district that is highly educated, highly affluent and highly engaged," said Evan Stavisky, a political strategist with the Parkside Group.
Case in point: In the 2017 election cycle, when Lander ran unopposed for re-election and de Blasio was headed to an expected second term as mayor, Park Slope and Windsor Terrace both cracked the top 10 of city neighborhoods for voter turnout in an otherwise low turnout race.
That engagement has also led to a high degree of political donations, with the seven candidates at the forum receiving collectively more than $405,000 so far, according to available campaign disclosures. Five of the candidates have also received the maximum amount of matching funds from the city, just over $160,000 each, making this race one of the city's most expensive this cycle.
'One of the most competitive races I've seen'
The gap left by Lander, a liberal standard-bearer in the council, has led to a crowded field of well-qualified candidates. With about four weeks left until primary day, on June 22, there is no clear front-runner, observers say.
"This is definitely one of the most competitive races I've seen," said Kim Maier, who has lived in the district for 30 years and is the executive director of the Old Stone House, which hosted the candidate forum. "It's an embarrassment of riches."
Briget Rein, a longtime employee of the United Federation of Teachers and its former government liaison, leads in total money raised, with $84,000, mainly in bigger individual amounts from the labor unions, like the UFT, that have endorsed her.
Brandon West, a political activist and former city employee, and Shahana Hanif, the former community liaison for Lander's office, lead the pack in total donations — about three times as many as Rein — buoyed by small-dollar contributions.
Justin Krebs, the director of campaigns at the progressive group MoveOn and fourth in the fundraising race, has positioned himself as the climate candidate, biking every block of the district and earning the endorsement of the New York League of Conservation Voters.
Doug Schneider, an attorney and Democratic district leader, is well known in Park Slope as a member of Congregation Beth Elohim, Park Slope's largest synagogue, and through being a trustee of the Park Slope Civic Council, which organized the candidate forum.
Also in the race are Mamnun Haq, a co-founder of the New York Taxi Workers Alliance; and Jessica Simmons, a former school principal.
At the forum on Sunday, the candidates responded in consistent "Yes, and" fashion to questions about housing, development, historic preservation and education.
Hanif, who has the endorsement of the Working Families Party, noted that she would be the council's first Muslim woman member if elected, and earned several instances of applause when rallying the attendees to their progressive values. She argued that the district, which has no public housing developments, needs to include NYCHA in its development plans.
West, who was endorsed by the Democratic Socialists of America, described himself as a one-time aspiring policy insider who was frustrated by opacity in city government. He earned his largest rounds of applause after suggesting the city import European rules that discourage landlords from sitting on empty commercial space and enforce affordable housing in new developments.
Schneider was the only candidate to go on the offensive, accusing Hanif of reversing her position on an issue of top importance to some in attendance: whether to expand, for a third time, the Park Slope Historic District. Hanif did not respond directly to Schneider, instead calling for the district to double down on "equity."
There are otherwise few policy differences between the candidates: They all oppose a proposed plan to rezone a large area in Gowanus, though for different reasons, and stress the importance of adding protections for small businesses to the district.
"You can't find the ideological differences between the major candidates in this district without an electron microscope," Stavisky said. "The question is, who is best able to convince their constituents that they can execute those priorities."
'This is a different election'
One potential wild card in the race is the support of the Orthodox families that live in the northern edge of Borough Park, one of the city's most densely Hasidic neighborhoods. Voters in that community typically mark down candidates endorsed by their rabbinic leaders.
Ezra Friedlander, a Hasidic lobbyist who lives in the district, said he is voting for Hanif because she signaled to him an understanding of the nuances of Orthodox Jewish life, which Friedlander attributed to her being raised as a religious Muslim.
"She understood the financial hardship that entails, she understands kosher food," he said. "You're talking about someone who doesn't need a textbook to understand the lifestyle challenges for an Orthodox Jewish family."
Schneider also has connections to Borough Park through family and friends, putting him in contention for rabbinic endorsements, which have not been released for the race.
So far, residents say, no one candidate has made their progressive pitches better than the rest.
"I don't think anyone's broken through yet," said Ezana Bocresion, the president of the Cobble Hill Association.
Yet residents say they have rarely seen such intensity in a council race, which they only expect to build into June.
"People are trying to get the vote out, people are knocking on doors, people are putting pamphlets under doors," Bocresion said. "You get a sense that this is a different election. New York City is undergoing a lot of change, and you feel that."
Editor's note: A previous version of this article misstated the name of the group that organized the candidate forum. It is the Park Slope Civic Council, not the Park Slope Civic Center.