Critics of ranked-choice voting have long predicted the system would create widespread voter confusion. But with the first citywide election to use the new system fast approaching, voters seem to be catching on.
94% of likely Democratic voters have at least heard of ranked-choice voting, according to the results of our latest Spectrum News NY1/Ipsos poll. That's up from 83% in our last poll in April.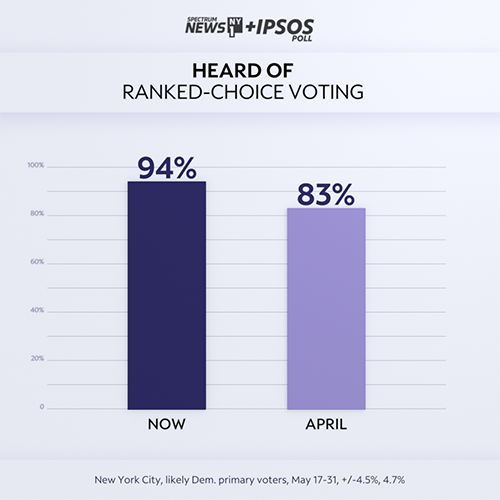 Within that group, 72% describe themselves as familiar with ranked-choice, a 19-point increase from April.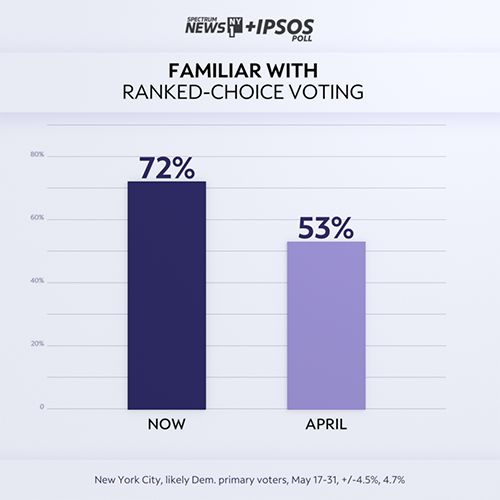 And 80% of likely Democratic voters say they're comfortable using ranked-choice, up from 72% in April.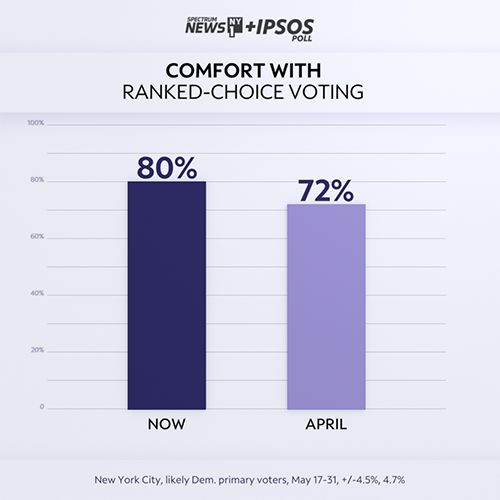 "We're certainly moving in the right direction," said Mallory Newall, research director for Ipsos. But she also noted a large plurality of voters, 46%, were only "somewhat" comfortable using the system, versus 34% who said they were very comfortable.
"There certainly is still a hurdle here, because people aren't necessarily feeling very confident [or] very comfortable using the ranked-choice voting system," she said. "And so it may impact how many candidates they choose to rank, or how they actually rank them on election day."
Ranked-choice voting is being used in New York City for the first time this year, after being approved by voters in 2019.
Under the new system, voters can rank up to five candidates in order of preference. The ranked-choice tabulation kicks in if no candidate wins a majority of the vote, a likely scenario in this year's mayoral primary, which features eight leading candidates.
First, the lowest-place finisher is eliminated, and those votes are redistributed to the second-choice candidate on each ballot. The process repeats until one candidate wins a majority.
There's still time for comfort levels to increase further, Newall said, as more voters educate themselves in the race's final stretch.
"As we move into the final weeks, as early voting starts in just a few days, people I think are going to be hit with more information about ranked-choice voting," Newall said, "and it's going to start to filter into voters' consciousness a bit more."
The NY1/Ipsos poll has a credibility interval of +/- 2.4 percentage points. The credibility interval is +/- 4.5 percentage points for likely Democratic voters.