Juan Ardila has discovered a new way to lose a bit of extra pandemic weight: run for City Council.
The question is whether Ardila, a 27-year-old progressive Democrat, can find a new way to win the city's 30th District, a bastion of white conservatism in central Queens.
While pounding the pavement, Ardila says he's already lost 10 pounds.
The district, just above the northern edge of Brooklyn, is dominated by single- and two-family homes, and about a quarter of its total area is given over to large cemeteries. With few natural community gathering areas like open markets or large parks, Ardila says he must spend his weeknights and weekends going door to door.
"I go until I can't see my name on the card, because it's so dark," Ardila said in an interview recently, speaking at Metropolitan Oval, a popular soccer field in the district, which covers Maspeth, Middle Village, Fresh Pond, Glendale and parts of Ridgewood.
Ardila is pitching himself as a youthful and progressive alternative to incumbent Robert Holden, who was a longtime member of the district's community board, its largest civic association and of other volunteer groups.
Holden is technically a Democrat, but won his seat on the Republican ticket, and has voted against Democrats on key issues, such as policing and immigration enforcement.
Ardila faces an uphill battle: Holden drew most of his votes in 2017 from the district's largely white, home-owning, conservative-leaning central neighborhoods, where a collection of civic associations and community groups drive political engagement. The area voted for U.S. Rep. Nicole Malliotakis when she tried to oust Mayor Bill de Blasio in 2017, as well as for former President Donald Trump in 2016 and 2020.
Even residents who support Ardila's candidacy are skeptical that he can build a coalition of Latino voters and progressives in the rapidly gentrifying Ridgewood neighborhood to overcome Holden's enthusiastic base in the Democratic primary later this month.
Holden "is very focused on other parts of the district, and I think he forgets about our corner here," said Father Mike Lopez, leader of All Saints Priory in Ridgewood and of The Hungry Monk, a mobile food pantry. "As long as he talks about quality of life issues that the middle class cares about, I think he'll be OK."
A representative for Holden did not respond to multiple emailed requests for an interview.
"A blue-collar neighborhood"
District 30 is the rare City Council district that has flipped between Democratic and Republican candidates, though many of its 93,000 voters skew conservative. Elizabeth Crowley, a moderate Democrat now running for Queens borough president, held the seat from 2009 to 2017.
That year, Crowley beat Holden by nearly 28 points in the Democratic primary, only to lose to Holden by less than a point in the general election after he accepted the Republican Party nomination.
Critics have suggested that Holden is planning a similar gambit this year: John Spataro, an attorney who does not live in the district, has filed to run on the Republican Party line, saying he would move there if he did ultimately run. The move prompted speculation that Spataro would hand his slot to Holden should Holden lose the primary on June 22.
A spokesperson for Holden told the Queens Daily Eagle in March that Holden did not need such a contingency plan, "because he's definitely going to win."
Ardila feels that he is almost a shoo-in for the primary win, and is looking ahead to the general election in November.
Holden's stronghold is in Middle Village and Maspeth, and in the influential Juniper Park Civic Association, where he was a member for decades.
Ardila says that Holden's concerns reflect primarily that area's concerns, particularly with his focus on quality-of-life issues like noise, public safety and graffiti.
Holden's successful bills so far as a primary sponsor have been related to those issues, such as aiming to improve 311 complaint call responses and requiring new equipment on concrete trucks to prevent spillage.
"The reality is he only focuses on a certain pocket, maybe a 10-block radius of Middle Village," Ardila said.
Voters in that area are overwhelmingly white, according to an analysis of census data by CUNY professor Steven Romalewski. Areas that get ignored, Ardila says, have a higher percentage of Hispanic voters.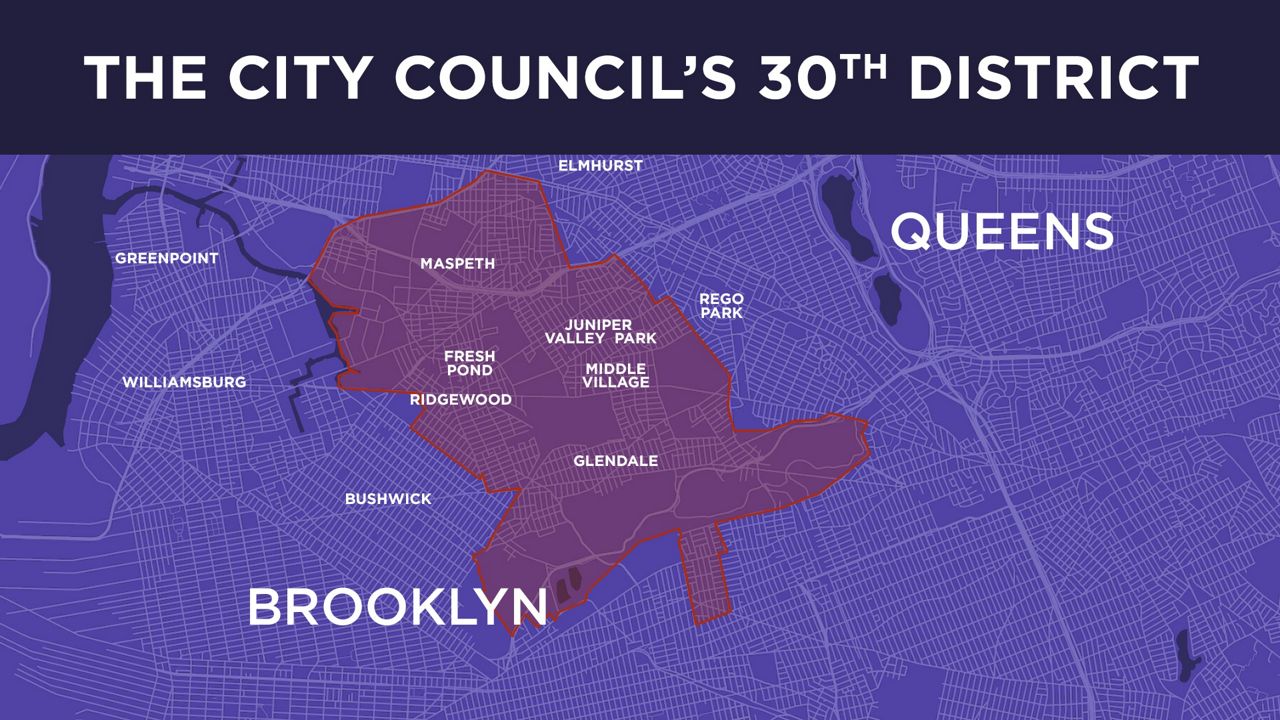 But Holden's approach is what voters in much of the district want, according to Tony Nunziato, the president of the Juniper Park Civic Association.
"It's a blue-collar neighborhood," said Nunziato, who owns a flower shop in Maspeth. "People work, they come home, they want to know things are safe, police are out there, the neighborhood is clean."
Nunziato pushed back on the idea that Holden gives Maspeth and Middle Village preferential treatment.
"Anybody that reaches out to Robert Holden's office, he will see what's best for them," he said. "No matter what comes along, Asian, Hispanic, it's people. He wants to represent everybody."
To Ardila and his allies, however, Holden's approach ignores systemic issues in the district, such as disappearing affordable housing and limited public transit, and the needs of low-income families, who are being rapidly displaced by an influx of wealthier, white residents from the district's southern neighborhoods.
Holden "really failed to advocate for a slew of his constituents, whose quality of life is impacted by increasing rents and low wages, not by litter on the streets or by graffiti," said Raquel Namuche, founder of the Ridgewood Tenants Union.
A new coalition
Ardila is something new for the district: not only its first non-white candidate for City Council, he says, but also its first to mount a serious run as an unabashed progressive.
He has received endorsements from several Democratic leaders in Queens, including State Sens. Mike Gianaris and Jessica Ramos, Queens Borough President Donovan Richards and City Council Member Jimmy Van Bramer. He also has the support of the Working Families Party and multiple labor unions.
He is hoping to see large turnout from white progressives in the Ridgewood area, as well as from Latinos, who make up about a third of the district, according to city analysis of census data.
"These are people who have never been spoken to for this council seat," he said. But, he added, "They're there. The population is there."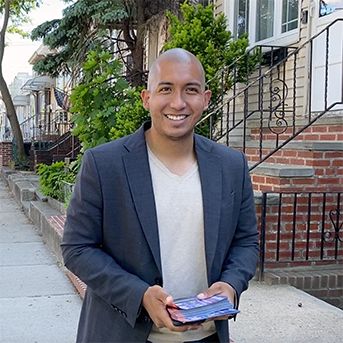 Juan Ardila, who is running against Robert Holden in the 30th City Council district. (Ari Ephraim Feldman/NY1)

Namuche said she has seen a lot of enthusiasm around Ardila's candidacy. Yet he has lagged slightly in fundraising -- about $48,000 to Holden's $60,000, according to data from the New York City Finance Board -- and spent far more than Holden, about $141,000 of his total haul, which includes city matching funds.

Lopez, the founder of the Hungry Monk mobile food pantry, says he is skeptical Ardila will get the energy he needs.
"I wish he would win, because I think he would do some important things," Lopez said. But, he added, "Latinos in this community, from my experienc,e have not been very mobilized in voting. A lot of that has to do with, we gotta work to just make our lives OK, and don't focus as much on politicians."
Ardila admits he lacks Holden's long experience working on community issues, but insists the jobs he's held so far prepared him sufficiently. He was an office manager in Brooklyn Council Member Brad Lander's office, and a consultant for the city's pre-K and 3-K expansion. He is currently a program coordinator with the Legal Aid Society.
He says that his personal understanding of the hardship immigrants face -- his mother's near-miss with deportation pushed him into public policy -- as well as being raised in the district make him a worthy candidate.
"You have the perfect culmination of someone who has the public service experience, the lived experience and is homegrown," he said. "I feel like I check all the boxes."