When the team of Frederick Law Olmsted and Calvert Vaux submitted a plan for the design for Central Park in the late 1850s, they envisioned a place where New Yorkers could escape their everyday lives and have the type of peace and tranquility usually found in rural areas. It was a time when there wasn't much open space as the city was growing rapidly. You might even think some sections like The Ramble and North Woods are located in upstate New York, but indeed they are in Manhattan. The park not only draws tourists, but is the backyard for residents in neighborhoods like the Upper East and West Sides and Harlem. During a time when many New Yorkers are mainly spending their time indoors, this resource has proved to be invaluable.
I make a habit of trying to walk (not run) through the park weekend mornings as a way to unwind from the work week. I find the walks even more necessary these days now that I am not going into the newsroom.
The park is 843 acres, and people are practicing "social distancing," a term we have become all too familiar with.
The Jacqueline Kennedy Onassis Reservoir and surrounding bridal trail draws runners and walkers alike.
In other areas, canine New Yorkers get their exercise and fresh air.
Note that many of the park's large gathering spaces like The Great Lawn, and ballfields, are closed for the winter months to keep them looking great in the peak spring, summer and autumn months. It's a good thing, because it keeps people moving and not congregating.
My favorite thing to do is duck into the North Woods for the watercourse with waterfalls, imagining I am in the Catskills relaxing by a mountain stream.
This week, for the first time, I brought my son Jack into The Ramble, one of the other natural areas in the park, where there are rocks to climb on (not bouldering, don't worry) and more falls and streams, beautiful views of the lake and New York City skyline - which is changing as we speak.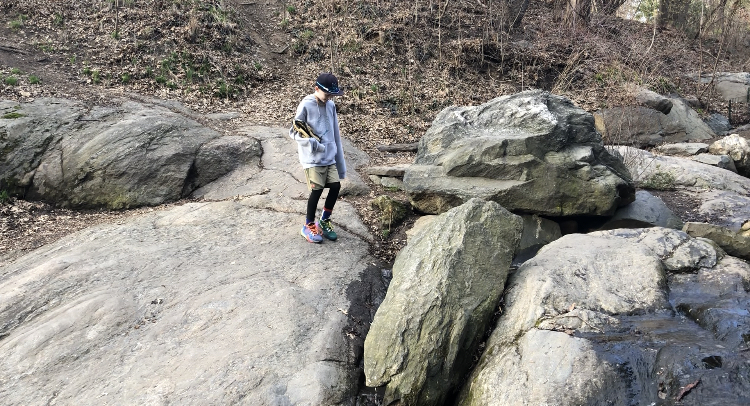 Jack said to me, "Dad, this is cool," and he didn't want to leave. Neither did I, but just like when I was a kid growing up in Queens, the fun sometimes has to be pre-empted for dinner.
It's funny - growing up in Forest Hills, I didn't get to know Central Park very well until I played (sometimes) for the Stuyvesant High School baseball team. Our home games were there (because like many NYC high schools, we didn't have athletic fields, at least back then.)
In the '80s, Central park was not a nice place like it is today. It was beat up, dusty, decaying and dangerous. Thanks to the Central Park Conservancy's restoration of the park over the years, it has become a place New Yorkers want to be. The timing couldn't have been better. When many of us are experiencing fear and anxiety about what's going on around us, a walk in the park is more important now than it has ever been.