Dozens of correction officers were lined up and waiting for orders, filling an otherwise empty gym with drug-sniffing dogs and anticipation.
"You're all professional," Executive Officer Julio Colon tells them, his voice ringing out above the din. "I know you're going to do a great job like you do all the time."
These officers, more military-like than Department of Correction, is what it takes to create a tactical search operation on Rikers Island — a random and surprise inspection of housing units to root out weapons and drugs in the city's sprawling jail complex.
NY1 went inside one of the city's most violent facilities last month and was given exclusive access to an operation that hasn't been seen up close in decades.
---
What You Need To Know
Nine detainees have died from overdoses or suspected overdoses since January 2021


Numbers show overdoses or suspected overdoses rose during the Department of Correction's staffing crisis last year, when officers were calling out sick or not showing up for work


Between January and Aug. 10th of this year, fentanyl was found in city jails 225 times.
---
"So I need you to continue with that high energy that you have, because our job is to keep these facilities safe from all of these weapons and drugs," Colon instructed.
That task has proven to be difficult.
Between 2017 and 2020, correction officials tell NY1 there was only one overdose death in city jails. But since January 2021, that's dramatically changed. There have been nine deaths that are either confirmed or suspected overdoses.
The numbers point to a crisis behind bars, where drug use and overdoses are a common occurrence.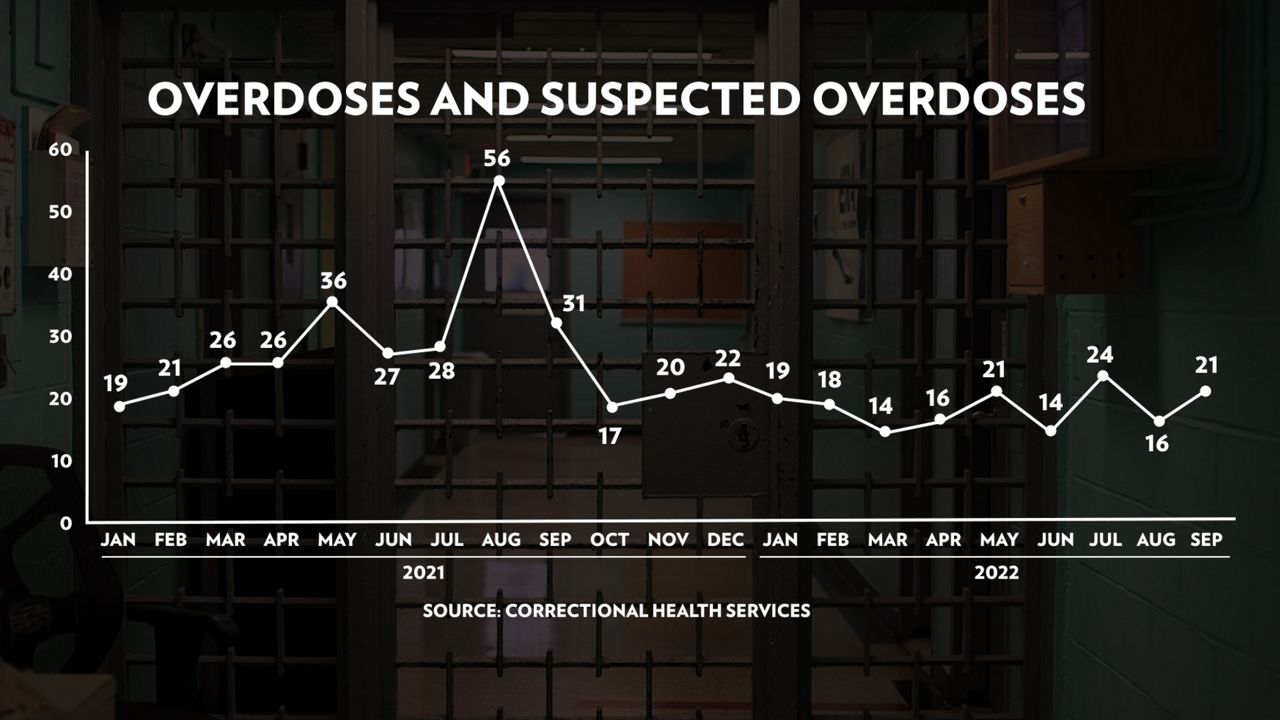 Exclusive data obtained by NY1 from the city show overdoses and suspected overdoses climbed — especially during the staffing crisis on Rikers Island last year — peaking at 56 during the month of August. So far this year, incidents have decreased, but they remain steady.
It's clear Rikers has a drug problem, and these searches are one way the department is hoping to address it by sending dozens of officers into the jail ready to overturn a housing unit to find drugs and weapons.
But for some, like Jennie Rosario-Megibow, this effort did not come soon enough.
Rosario-Megibow is the mother of Michael Lopez. She adopted him when he was three days old.
"He was a great kid," she told NY1 during an interview in her Manhattan apartment this summer. Photos of her son were lining the wall behind her. "He learned to walk normally. He had a really great sense of humor."
It was years later Lopez was diagnosed with schizophrenia. And soon after he developed a problem with cocaine, crack and alcohol.
"It was paranoia and his drug addiction. That combination was such a poison to him and the poor kid, you know," Rosario-Megibow said, holding back tears. "There was anger and there was sadness and there was so much love between us."
Lopez would steal to feed his habit. Eventually, he became homeless. And in May he ended up on Rikers Island.
"The night before he died we were on the phone and he was in pretty good spirits," Rosario-Megibow said. "We were having a pleasant conversation and then he changed the conversation and he said, 'Mom, can you do me a favor?' And said, 'Mom, can you put money in a cash app?' And I said, 'I am sorry I am not doing that.'"
Within hours, sources tell NY1, Lopez was seen snorting something on surveillance video.
He was found unresponsive the morning of July 15th.
"I want to know what the hell happened in Rikers Island," Rosario-Megibow said. "I want to know hofollowed,w he got those drugs. He was in a medical observation unit. Who, what, when, why and how. Michael had no money to get drugs to get them. What the hell happened? They say they saw it on camera and they didn't intervene?"
Lopez's death is still under investigation. According to the Department of Correction, one captain and two officers were suspended in connection to the incident.
Investigations from the Board of Correction, the jail's oversight body, have found correction officers in several of the other overdose deaths in 2021 and 2022 were not conducting proper rounds or were not responding to instances of open drug use on surveillance video.
The correction commissioner acknowledges the department has to improve.
"We're making strides but we have a long way to go," Louis Molina, the commissioner of the Department of Correction, said during an interview on Rikers Island last month. "When so much stuff has been allowed to enter our system over two years that none of those basic security protocols were being followed we are digging ourselves out from a situation that is very serious."
He is also quick to blame the prior administration, especially for not conducting these types of searches in city jails.
"In 2021, the former administration only had one tactical search operation, and calendar year to date we've had 40 tactical search operations," Molina said. "That strategy has helped significantly in the recovery of over 4,000 contraband weapons and over 700 drug seizures."
An hour into that search, what's known as contraband — drugs and weapons — start to come in from the teams on Rikers.
"Approximately an hour and a half into the search my special search team captain just notified me that they recovered 21 weapons," Colon told NY1. All the weapons were from one housing unit. "Some of the weapons were recovered on persons in custody. Others were in empty cell areas."
Shortly after, those weapons start coming in to be cataloged. They are makeshift knives concocted from the failing infrastructure around them, from pipes and Plexiglas.
Officers also found several bags of marijuana.
And then finally a discolored piece of white paper. They suspect it could be fentanyl.
"So fentanyl will come on that," Colon said, referring to the paper. "Sometimes the magazines, sometimes when it comes, and it's discolored, it's fentanyl."
"How often do you see that?" we ask.
"We were seeing it a lot," he said. "The first recovery we did we found 110 sheets of fentanyl."
Sure enough, they test it. And it comes back positive.
"So this right here will prevent someone from possibly overdose," Colon says.
Of course the question remains, how it got here?
It's the same thing Rosario-Megibow asks.
"They murdered my child," Rosario-Megibow told us. "They knew that this drug was going to kill. I am sure they were aware. How do they get these drugs in there? They weren't allowed visitors. What the hell happened? What happened?"
According to data provided to NY1 from the Department of Correction the number of drugs found in city jails spiked during 2020 and 2021 when in-person visits were also suspended.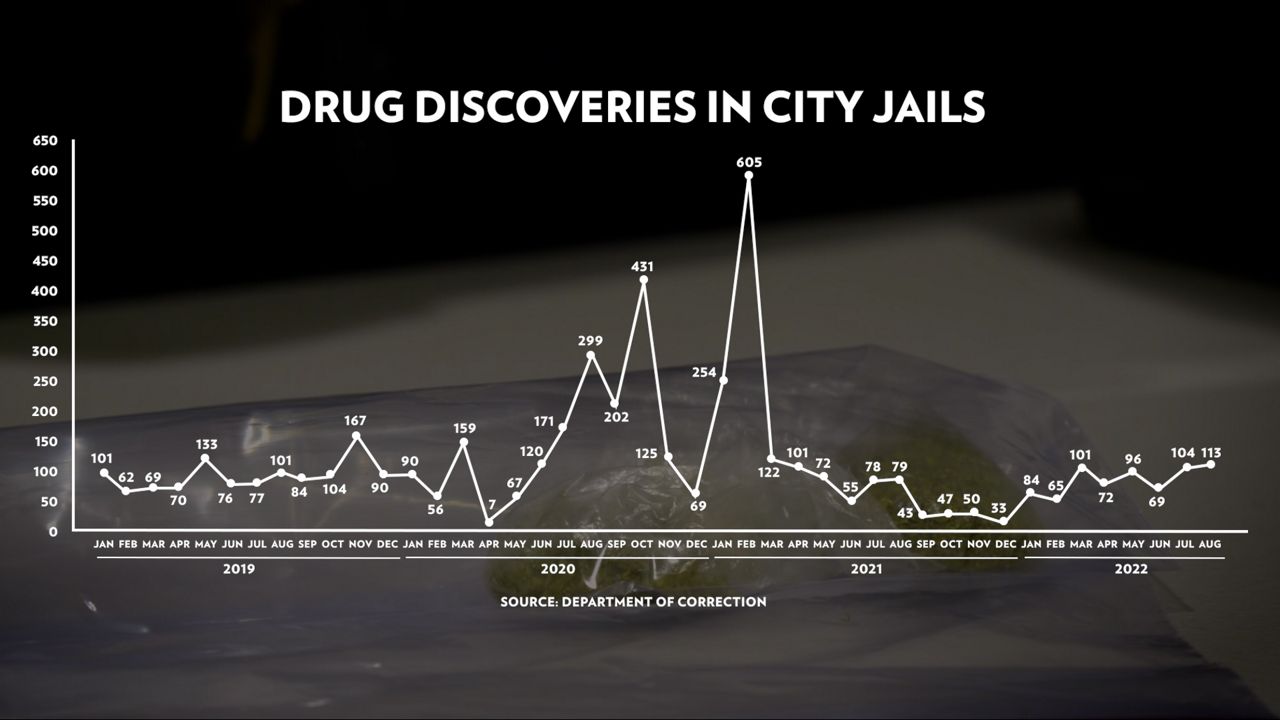 Correction officials say since then they have seen more drugs come through the mail. Between January and August 10th of this year, fentanyl was found 225 times, 80% of the time when screening mail.
In response, the department is planning to overhaul how detainees receive their mail, including potentially scanning it onto a tablet for people to read digitally. Officials have not yet released a concrete proposal on that.
Advocates and officials outside of Rikers, however, have long questioned whether drugs were getting on the island through correction staff. Records from the Department of Investigation show since 2017 there have been 25 Department of Correction officers and employees charged in connection with bringing in contraband.
Molina does not think staff is the center of the problem.
"I don't think it's majority driven by the staff," the commissioner said. "I think there's a number of ways that drugs enter any type of correctional system. Sometimes, that's people that work for the organization. Sometimes, that's contract providers. Sometimes, that's loved ones that are trying to help someone dealing with the battle of addiction during a visit. And what we have to do is try to mitigate that from happening as much as we can and that's what we're doing."
That mitigation has not been successful for some. And advocates question whether detainees are getting appropriate medical care.
For one, records obtained through the Freedom of Information Law from the Board of Correction show one detainee who overdosed this year, Anibal Carrasquillo, missed more than 200 medical appointments during his stay in jail between September 2019 and June 2022. The vast majority of those, according to these records, were missed because he was not taken to the clinic by Department of Correction staff. It's unclear why.
Michael Lopez also missed 16 medical appointments from the end of May until mid-July, including one on the day before his death.
In a statement regarding those medical appointments, the commissioner said the city's health officials schedule many medical appointments for detainees.
"We do everything possible to ensure that people in our custody have access to medical and mental health services," Molina said. "It should be noted that independent health services provider Correctional Health Services, which provides all healthcare to people in custody, has scheduled in 2022 to date over 370,000 medical appointments for an average daily population of 5,900 persons in DOC custody. Given this high number of scheduled medical appointments, our medical non-productions, which are published on our website, show that non-production in June and July of 2022 declined by approximately 40% when compared to June and July of 2021 – a substantial improvement, especially given the volume of scheduled appointments made by Correctional Health Services."
Separately, NY1 sat down with health officials from the city's jails. They say more detainees are participating in their methadone maintenance program.
"Also been able to increase enrollment in that program significantly such that 11 percent of people who had opioid use disorder in 2016 were enrolled, and now it's over 80 percent," said Dr. Zachary Rosner, the chief of service for medicine at Correctional Health Services.
Officials at Correctional Health Services are also training detainees on how to use naloxone.
That training has proven to be life-saving.
Andres Tabares had been on Rikers Island for 40 months when NY1 sat down with him last month. He took the naloxone training and helped save someone in his housing unit two months before. He explained a fellow detainee's lips and feet were turning blue. Detainees were able to get Narcan from the correction officer on duty.
"They actually allowed us to help him out," Tabares recalled. "We did it. The first time it ain't work. We hit him the second time. By this time the nurses were there so they took over, but I believe if it wasn't for it being on the unit already, he might not have made it. It is a real blessing they are providing this for each and every unit."
Naloxone is now kept in almost every housing unit on Rikers. Even so, NY1 learned the Department of Correction only started training its staff on how to administer Narcan in August of this year.
Officials said that training is a priority.
Still, help wasn't there to save so many others who have died in city jails.
Mothers like Rosario-Megabow are left wondering why.
"I am really worried about the injustice that these people don't care," she said. "Just because they are inmates doesn't mean they are inhuman. Just because they are inmates doesn't mean they should be given drugs and they should be allowed to harm each other."