Rikers Island is potentially poised for a federal takeover pending a hearing this week on a court-ordered new plan from the city detailing how officials plan to reform the notorious jail complex.
At the center of the debate is a massive staffing crisis on the island, where hundreds of correction officers are calling out sick and hundreds more are on modified duty.
In recent months, no one was manning dozens of posts at the jail. Cell doors are broken. Sources say inmates in some housing units have been able to come and go as they please. It's a humanitarian crisis by most accounts where fights, stabbings, slashings and assaults occur on a daily basis.
The question is: who is to blame?
---
What You Need To Know
On Tuesday, the city must file a reform plan to turn Rikers Island around, per a federal judge's order


But more than 1,100 officers are still out sick every day on average


The city's plan is expected to address the staffing crisis looming over the jail complex
---
The correction officers union is one party at the heart of the crisis — why are more than 1,100 officers on average every day still calling out sick? The head of the union has one answer.
"We've been abused by the prior administration," said Benny Boscio, the president of the Correction Officers' Benevolent Association. "That's where the abuse has been coming from not hiring, forcing us to work all these hours of overtime, assaults are happening, people are on the mend. They are not going to discipline their way out of this. If they think they are going to follow suit with the next administration, they have another thing coming."
This week the Department of Correction and the city's federal monitor overseeing Rikers Island must file a plan to reform the jail complex in federal court. It's the city's the last chance to avert a federal takeover.
The commissioner of the department refused to sit down with NY1 for this story. But he has said the current crisis is a result of years of mismanagement, and he is committed to reforming how the jail functions.
Nonetheless, any plan will have to address the staffing crisis that some say has led to disastrous consequences.
"We had an inmate choke on an orange where there was no officer on the floor. Had there been an officer on the floor maybe that life could have been saved," Boscio said.
A new report from the Board of Correction, the jails oversight body, detailed how the city failed to supervise and properly care for inmates, leading to several fatalities. The report says Hernan Diaz choked on an orange in March and no officer was available to help him. Instead, detainees carried him to clinic.
Was that officer not on the floor because potentially so many people are calling out sick?
"No," Boscio said. "It's because they're not hiring in a three-year span. You can't operate a correctional facility without staff."
Regardless, there was no officer available to do rounds in that housing unit as hundreds of officers are out sick or on modified duty each day
The problem became severe in 2021. Back in August, some 29%of uniformed staff were out sick or unavailable to work with detainees. As the months ticked by, the problem got worse.
According to the federal monitor, some 34% were unavailable in September. The number of staff out or unavailable peaked in December, with 45% out on New Years Eve.
The problem, according to the monitor, was still present at the end of January.
NY1 sat down with a correction officer earlier this month and is protecting his identity as he fears of retribution.
"There were times when the staff levels were so low and the inmates were just running wild doing as they please," the officer said. "There were definitely times where you are just like, fearing for your life, fearing for your safety, you just don't know. If I get assaulted is there going to be someone there in time to help me, and save me."
Last year, the officer was punched in the face — his nose was broken and he was out of work for about a month and a half — one of many injuries he's gotten on the job.
"I've had torn both my rotator cuffs, tears in my elbow and wrist, tears in my knees, a hip issue as well," he said. "Pretty banged up."
For officers, the union says, every day they go to work they fear for their lives.
Surveillance video obtained by NY1 from a correction source shows fights and brutality over the last several years — a common threat in the city's jails.
Data from the city show assaults on officers skyrocketed in 2021. At the same time officers were calling out sick in record numbers, others were working triple tours.
Union sources claim things have improved after the department started commingling detainees from different gangs.
Even so, the number of stabbings and slashings on the island in recent months is much higher than in previous years.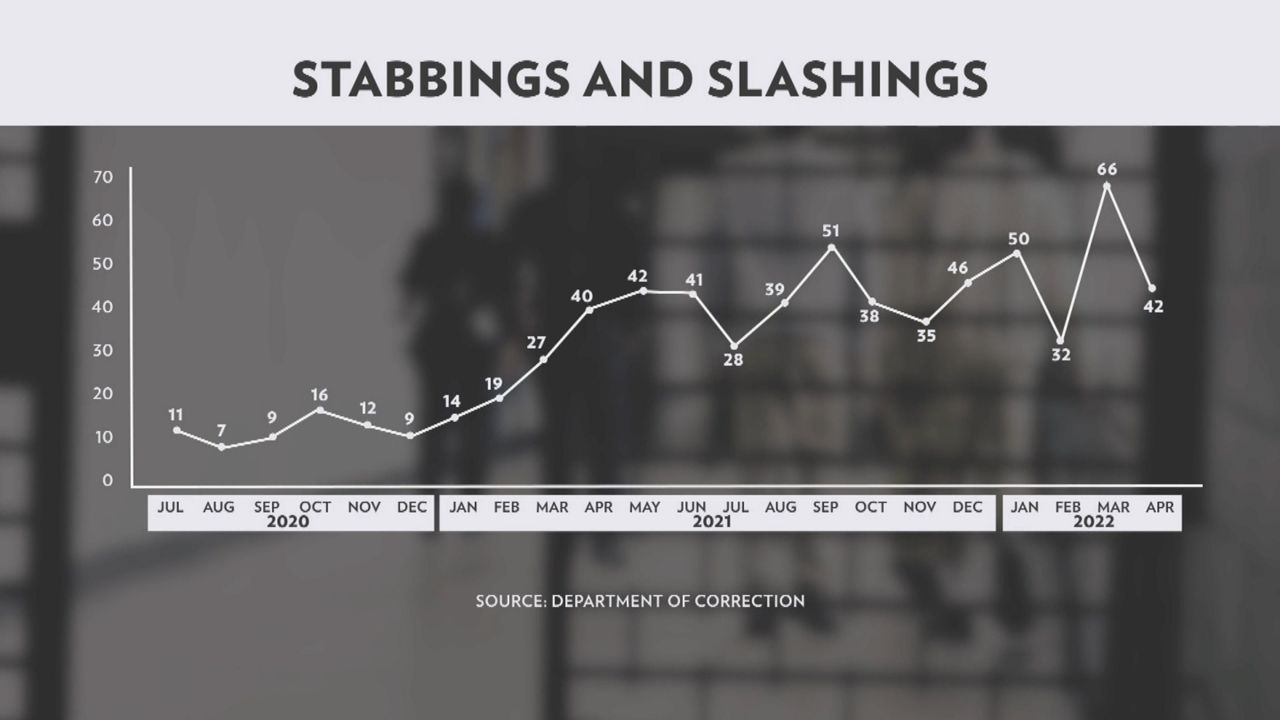 "Anytime you cross that bridge, it's always in the back of your mind this could be a bad day and you hope for the best that it's not," the officer told NY1. "In terms of how things have been going recently, especially under these new changes that this new commissioner has brought in, it's the most optimistic I've been about this job in years."
The solution, according to the union, is more officers.
"This isn't about I want more officers because it's advantageous as the president of the union because I want to boost my membership, that's ridiculous," Boscio said. "It's about safety. We can't keep people safe if we don't have enough officers to do it. That's what this is about. We want everyone in our jails to be safe."
The mayor has already proposed adding 578 officers in next year's budget.
But other correction officials, like a former commissioner and the federal monitor, point out Rikers has a high staff to inmate ratio.
Over the years, the uniformed staff on Rikers Island, according to city budget documents, has shrunk. But at the same time, so has the daily jail population.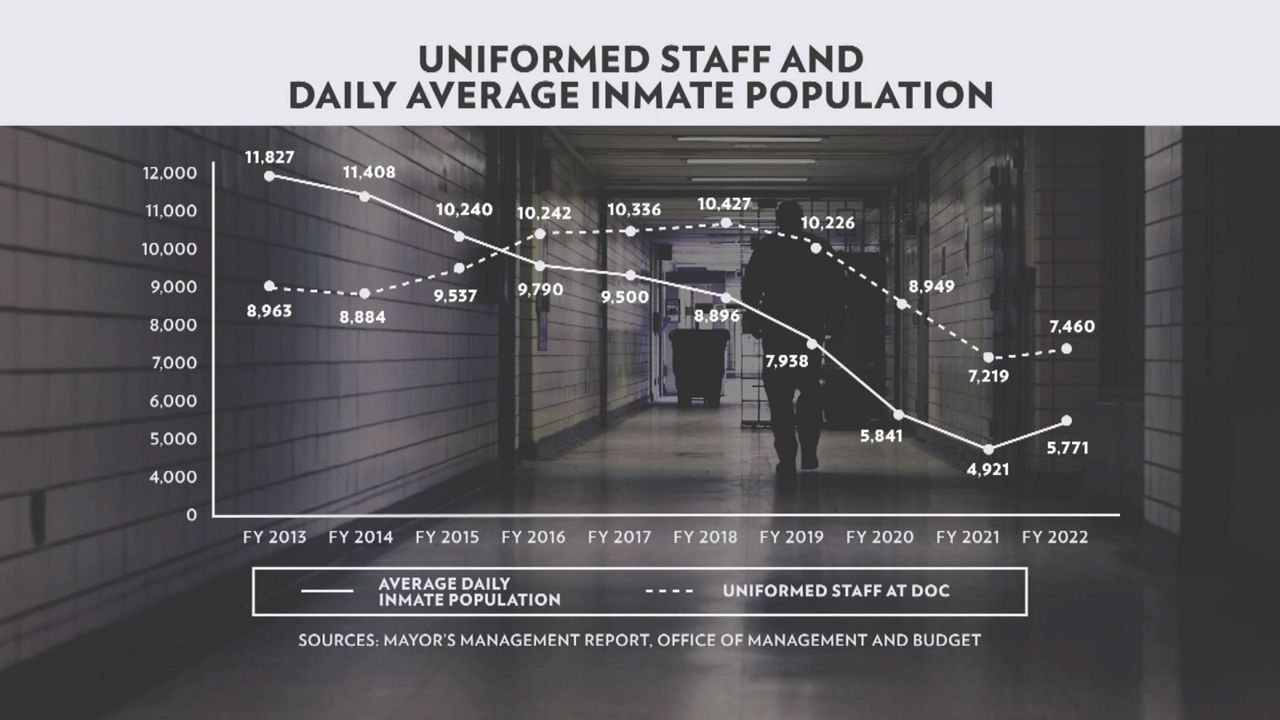 Ex-officials, like the former corrections commissioner Vincent Schiraldi, say they have seen officers abuse the department's unlimited sick leave policy.
When we sat down with him earlier this month, we asked: could you effectively manage the place?
"No," Schiraldi said. "I think there were too many obstacles set up over the decades of kind of giving away things to the unions, like unlimited sick leave and the inability to hire people from outside New York City to come work in the department to bring fresh blood in. Really lengthy due process around disciplining people. There are just too many obstacles set up in my view in order to fix this in the amount of time to fix this. It's an emergency. People are dying."
In his brief time as commissioner during 2021, Schiraldi said the staffing crisis was directly linked to violence.
"I used to walk onto some of the units that had no correctional officer on it, and often you would look under somebody's pillow or mattress, and they would have a shank that they made from some broken piece of metal or Plexiglas that they were using to protect themselves, because there was no correctional officer on their unit and they never knew when someone was going to attack them and there would be no one to defend them," he said. "During this time, we would see people posting pictures of themselves on Instagram in the Bahamas while they were out sick."
So we asked the union, given the number of officers who have been out sick, should there be a change to the unlimited sick leave policy?
"Absolutely not," Boscio said. "We perform a very dangerous job for the city of New York. We keep New York City safe and the reality is that these watered down consequences for inmate actions have caused them to assault us more and with those assaults you are going to have people out sick."
It's unclear what the department will do to try to bring the staffing issues under control. Sources in the department said New Yorkers should expect to see the plan address officers who have been repeatedly, chronically abusing the sick leave system.
The plan should also tackle the outsized number of officers who have been placed on medically modified duty and are therefore unable to work directly with detainees.
Sources in the department note they are working to fix the jail's broken doors. The jail fixed 300 doors with another 250 set to be installed by June.
Under his leadership so far, according to the Department of Correction, Molina has closed 821 disciplinary cases against correction officers. Of those cases, 15 people have been terminated, nine had irrevocable resignation, and another four had irrevocable retirement.
Another 46 officers have been put on probation. Sources at the Department of Correction note this was more than Molina's predecessor during the same time period.
While Molina would not sit down with NY1 for this story, he did send this statement: "We will be submitting to the court a plan that will address our longstanding staffing issues, including how they relate to sick leave abuse… The vast majority of our correction officers are dedicated civil servants who show up day in, day out, to work one of the most difficult jobs in the city—a job for which they often do not get the deserved respect."