The coronavirus pandemic has seen many accompanying crises for New York City. It's also meant a crime spike.
An exclusive Spectrum News-Ipsos Poll finds finds 58% of residents feel less safe in their neighborhood compared to a year ago. Thirty-six percent disagree.
But just as important as public safety are police reforms.
Fifty-two percent of New Yorkers support reducing their local police department's budget in order to increase investment in social programs. Thirty-six percent do not back the proposal, which is associated with the Defund the Police movement.
Earlier this year, following the death of George Floyd in Minneapolis police custody, massive crowds here and around the country took to the streets to spotlight generations of racial injustice.
According to the poll, 69% of New Yorkers say they support the Black Lives Matter movement. Twenty-two percent do not.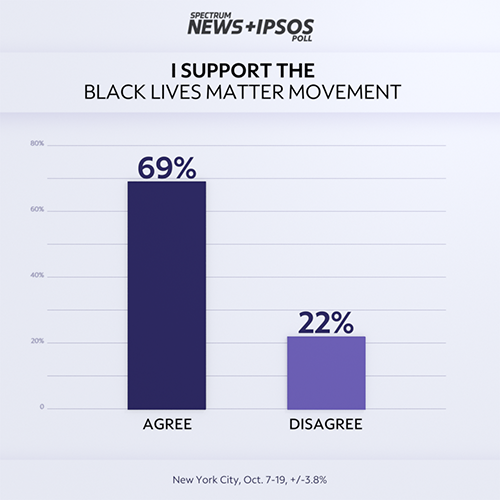 The poll shows a close split on Mayor Bill de Blasio's handling of protests and social unrest. Forty-six percent approve, while 45% do not.
This week, some demonstrators filed a civil complaint against de Blasio and the NYPD over the department's use of force at protests in May and June. The mayor responded Monday.
"So, clearly, what we want and what we believe in is a better and more peaceful relationship between the NYPD and the community," he said. "I think that evidence is clear. So, again, I'm not going to speak to the details of the lawsuit, but I think the underlying concept just isn't fair."
Proposed changes to the criminal justice system go beyond defunding the police. The poll shows 61% would like to see the legalization of marijuana in New York State, while 30% would not.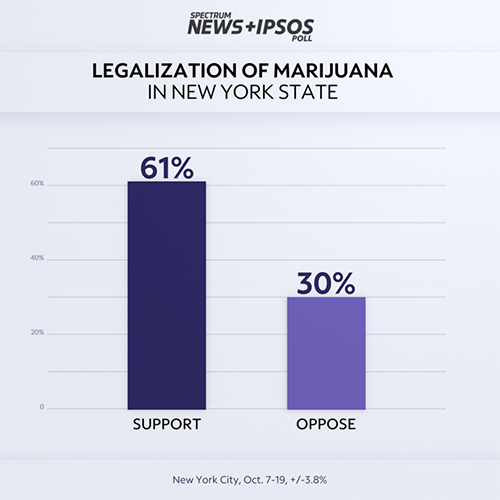 Meanwhile, 51% want the full repeal of New York's 2019 bail reform measures, while 26% do not.
Some poll respondents, including Peter Robinson Jr., say context has been lost and political spin added to efforts at combating systemic racism.
"I think we're missing out on so many things, not only de Blasio and how he handled it, but every community is handling it different," said Robinson, of Manhattan. "We have this thing that goes on behind us that we have no control over. And whether it's the right or the left — I don't care who it is — their agendas are showing up bigger than the agendas of the marchers and the protesters And that's a crime. That's a shame."
The online poll of 850 city residents was conducted between October 7 and October 19. Its results are +/- 3.8 percentage points.