New York's early-voting period is kicking off this weekend. But amid the coronavirus pandemic, hundreds of thousands of New Yorkers will likely be mailing in their ballots.
An exclusive Spectrum News-Ipsos Poll finds city residents are fairly evenly split between voting at their polling places on Election Day and voting with an absentee ballot.
Thirty-seven percent plan to vote in-person on November 3, while 35% are opting to either mail in or drop off their absentee ballots. About 17% plan to vote early.
Poll respondents Dennis Sanchez and Tracey Simpson chose to vote absentee with loved ones in mind.
"Basically, for safety for my wife. She's a cancer survivor, so I have to be extra cautious from that point of view," Sanchez said.
"I usually go in and I vote," Simpson said. "But I was scared and I didn't want to wait on line for hours. And I live with my elderly parents, so there's a lot for me to think about. So I felt that yes, I'm going to exercise my civic duty, but I'm going to do it in the best way for me."
Poll respondent Mia Adams based her voting plan on the city Board of Elections' struggles with vote by mail.
"I want to do it in person, just because I heard about the headache with absentee ballots," she said.
In the June primary elections, results took six weeks to certify, and one of every five absentee ballots was invalidated.
Earlier this general election season, about 100,000 absentee ballots had to be re-mailed following a printing error.
The poll finds most New Yorkers — 67% — have trust in the outcome of the presidential election, while a hefty number — 20% — do not.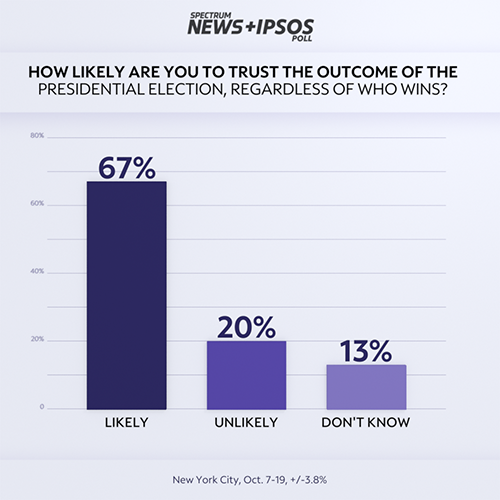 Donald Trump is facing a challenge from Joe Biden, and the president has sought to sow doubt in the election system.
Chris Jackson of Ipsos says polling shows great anxiety around the country about election integrity, but less so in reliably blue New York, where the outcome is foreseeable.
"It's not actually quite as bad in New York as we're seeing it in some of the other states, essentially in some of the hotter, sort of contested swing states where people are even more concerned," he said.
Meanwhile, ahead of the election, the fact that Trump contracted COVID-19 has made 41% less favorable to him and 20% more favorable, while 32% say it has no impact.
Additionally, 42% say the president's nomination of Amy Coney Barrett to the Supreme Court made them view him less favorably, 26% say it made them more favorable toward him and 23% say it had no impact.
The online poll of 850 city residents was conducted between October 7 and October 19. Its results are +/- 3.8 percentage points.