His job performance ratings may not be high, but most New Yorkers still like Mayor Eric Adams' style of leadership.
"When a mayor has swagger, the city has swagger," he said in January, a line he used frequently at the start of his tenure.
An exclusive Spectrum News NY1/Siena College poll finds that 53% of city residents approve of Adam's style versus 37% who do not.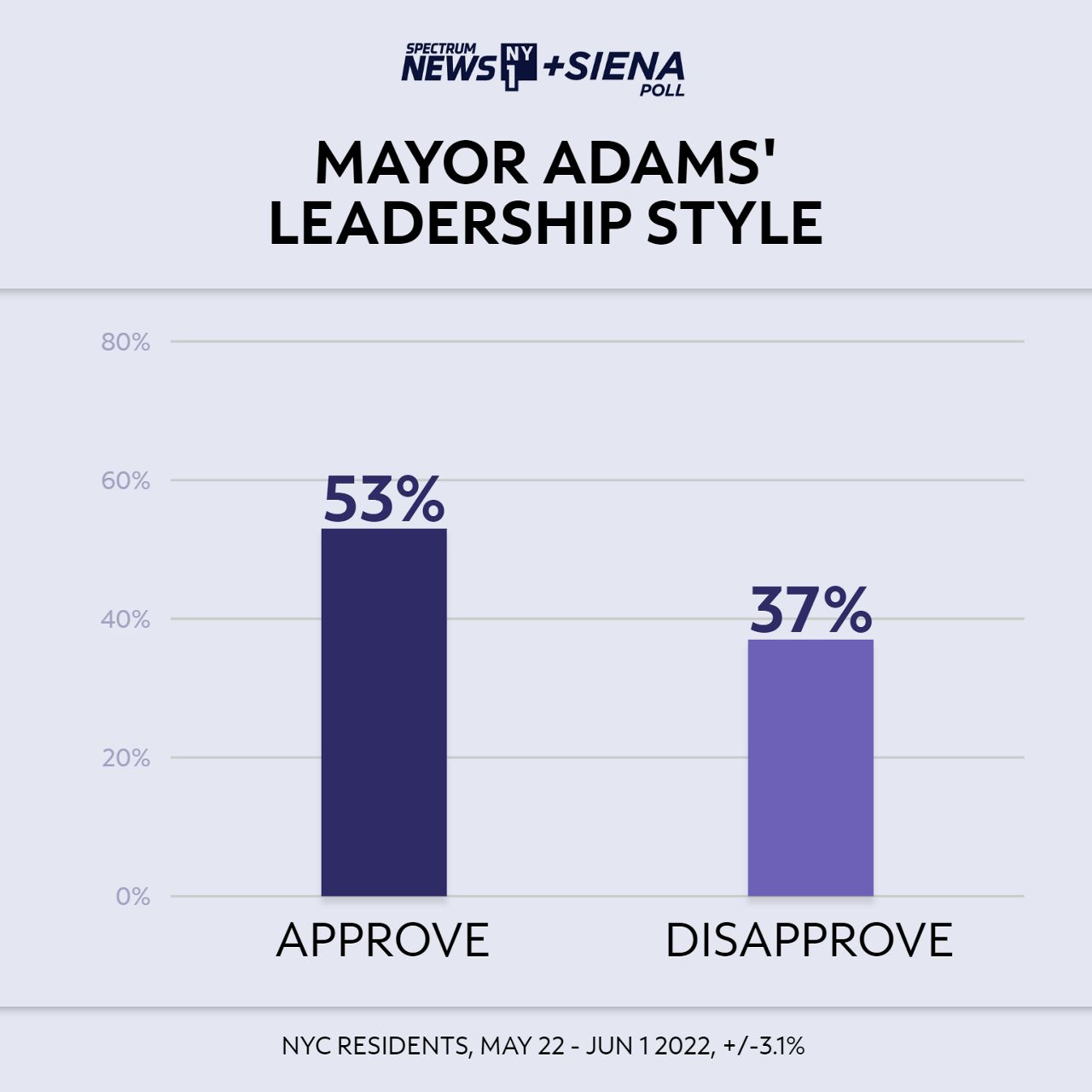 And for what it's worth, a combined 72% say he's doing better than or as well as his predecessor, Bill de Blasio.
"So we do see a bit of a silver lining for Mayor Adams," said Don Levy, director of Siena College Research Institute. "Thirty-six percent say that at present they feel that Mayor Adams is doing a better job than Mayor de Blasio did do. Only 17% feel as though de Blasio did a better job. So about a two-to-one ratio."
Also, while a concerning 70% say they feel less safe since the start of the pandemic when it comes to crime across the city, the poll finds a different picture at the neighborhood level.
Seventy-six percent of respondents say they're somewhat or very satisfied with the quality of life in their neighborhoods.

"Even if they don't know everyone in their neighborhood by name, there's a sense of comfort in the neighborhood that they simply don't have when they think of the city as a whole," Levy said.
Adams was asked Tuesday about the perception of danger versus the reality.
"I don't know if we know the role of what blasts on our front pages every day," he said, adding: "But if you get on that J train and the first thing you see on the page is someone was shot on the J train, you're going to disregard that you take that trip every day and you're not the victim of a crime."
And it when comes to policing, also working in Adams' favor is that New Yorkers appear to be on the same page as him in terms of law-and-order and supporting the NYPD.
"Superheroes don't have S on their chests," he said Monday alongside officers. "They have shields on their waist or on their uniforms."
Eighty-five percent support having more NYPD on the subways, 63% support installing metal detectors at subway entrances and 60% support breaking up homeless encampments in the city.
Adams has also criticized the so-called Defund the Police movement.
Among the New Yorkers surveyed, about half, 52%, want the NYPD's budget increased and 27% want it to stay the same.

Just 17% want it decreased.
The poll of 1,000 city residents was conducted between May 22 and June 1.
It has a margin of error of plus-or-minus 3.1 points.