The view of life in New York City is bleak, according to a Siena College poll of city residents conducted exclusively for Spectrum News NY1.
A majority of respondents (56%) said their city is headed in the wrong direction, compared to 32% who said it's on the right track.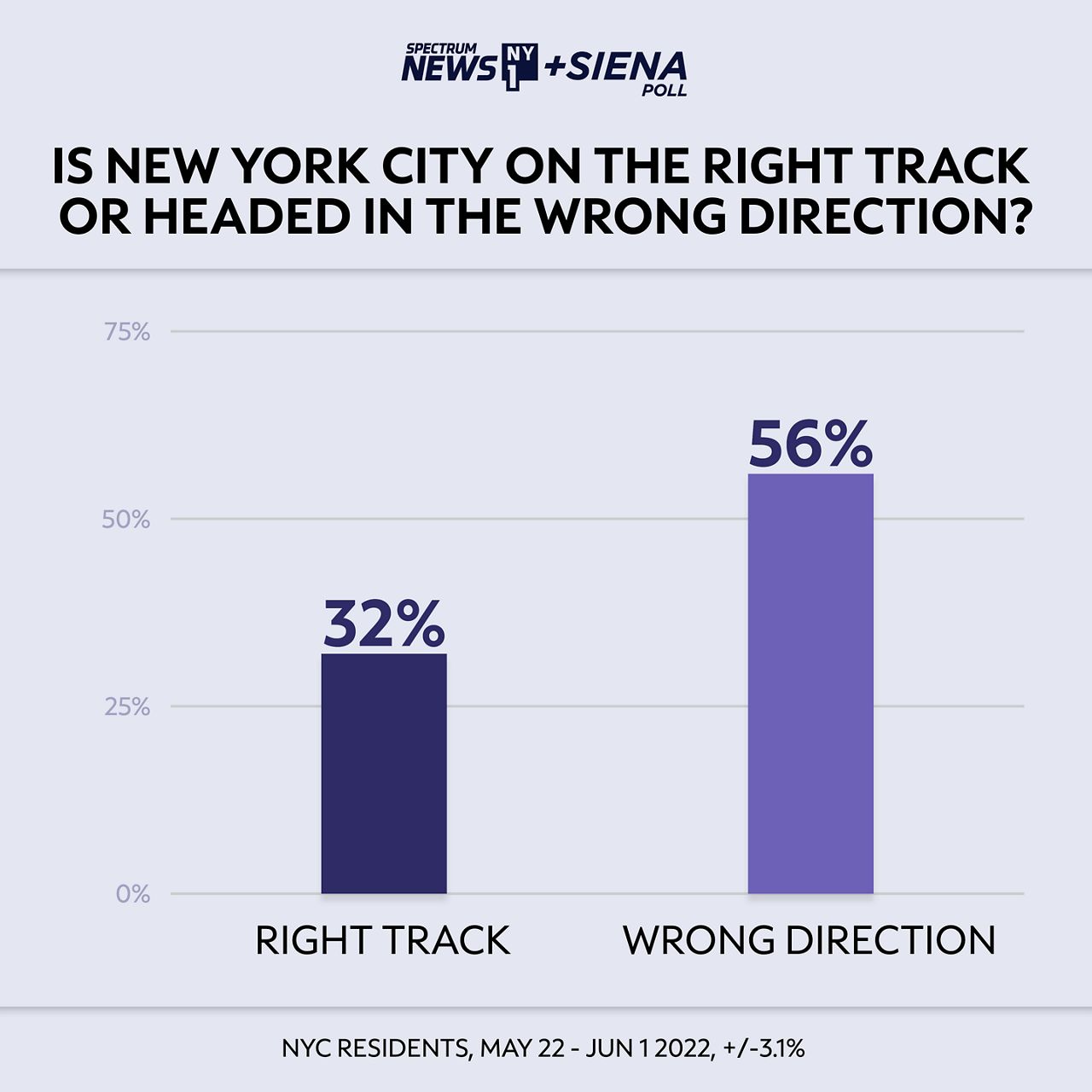 And an overwhelming seven out of 10 New Yorkers said they feel less safe new than before the pandemic began.
The Spectrum News NY1/Siena College poll also found 76% of respondents are either somewhat or very concerned that they'll be the victim of a violent crime.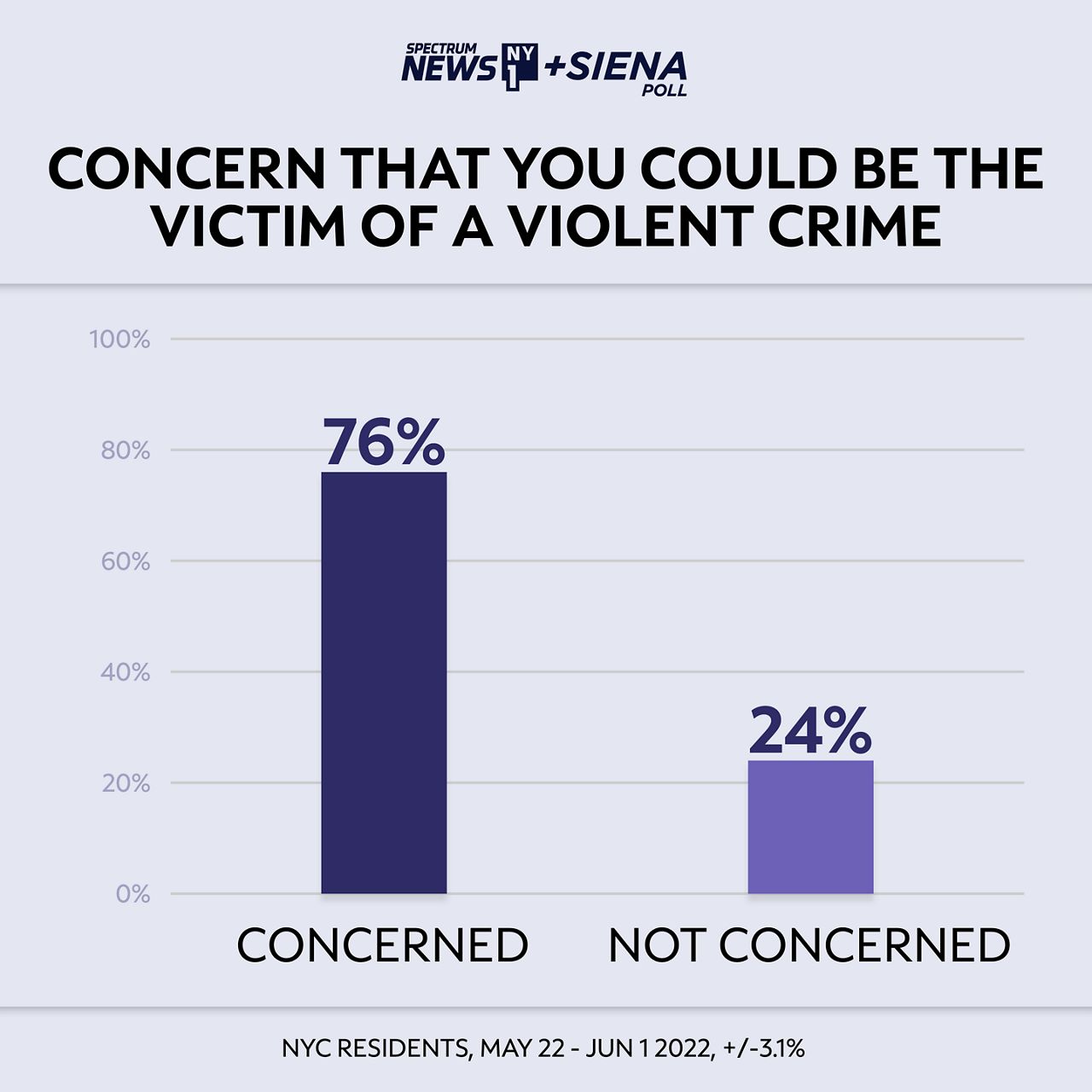 This came as Mayor Eric Adams noted this week that shootings are trending downward — even while overall crime is still on the rise.
"This is not a large number of people," he said Monday of offenders. "It's a small number of people who are consistently inflicting violence."
And what about Adams, who's at the helm of the city? His job approval rating is deep underwater. Just 29% rated his performance as good or excellent, while more than twice as many (64%) said he's doing fairly or poorly.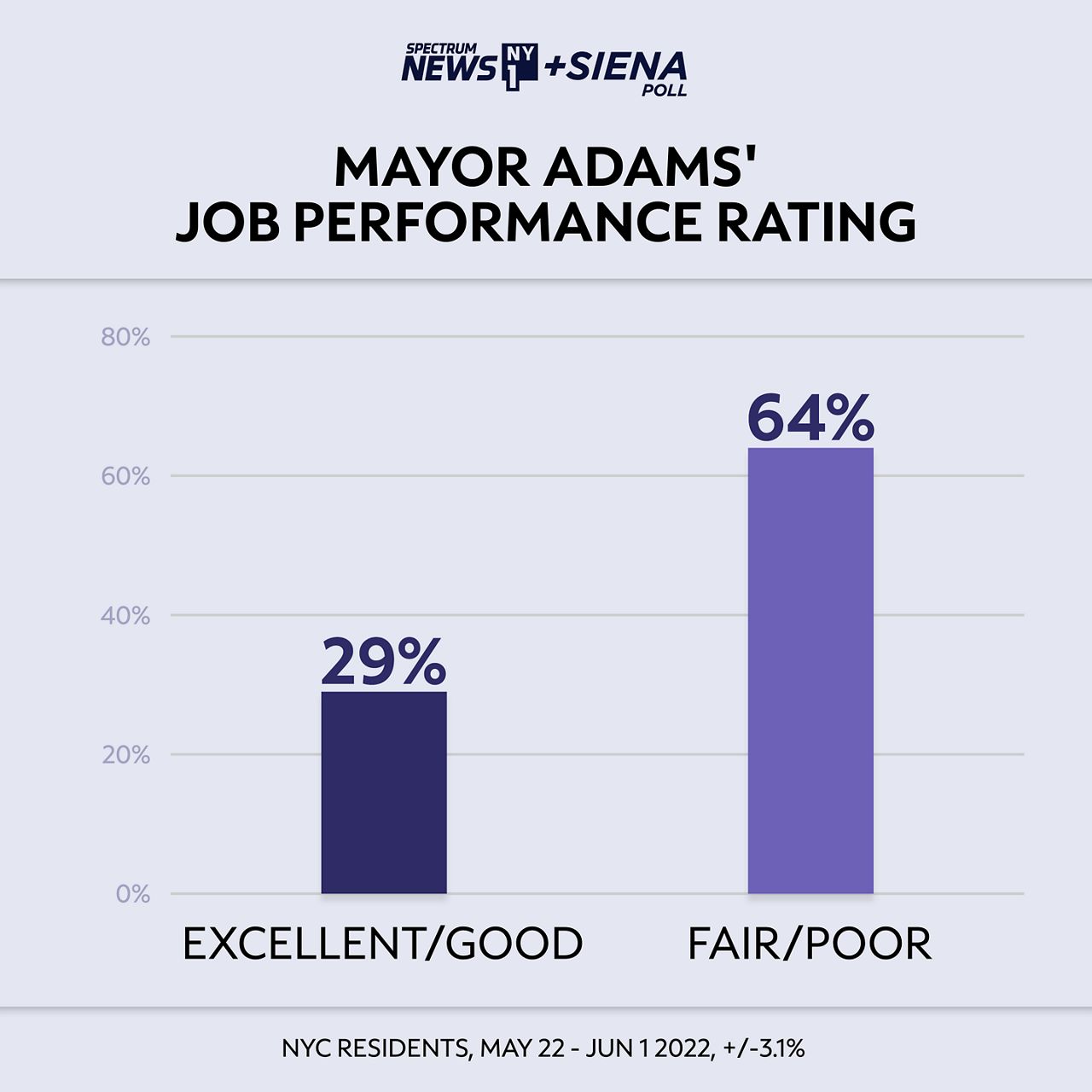 "You would normally say that a newly elected chief executive has a honeymoon period," said Siena College Research Institute Director Don Levy. "Well, if he had it, it certainly seems to be over."
The poll of 1,000 city residents was conducted between May 22 and June 1. It has a margin of error of plus-or-minus 3.1 percentage points.
The mayor has cited improvement under his leadership, saying of the NYPD: "Their job is to take dangerous people off the street. My job and the job of my agencies is to prevent people from being dangerous. And that is the partnership we're creating."
But on the issues, the survey found Adams scored lowest on addressing homelessness — 49% said he's doing a poor job — and on fighting crime, 45% said he's doing a poor job.
He scored highest on encouraging tourists to visit New York City. Forty-three percent said he's doing excellent or good at it.
"We're on top of the world. This is New York City," he crowed last month. "This is the best city on the globe."
At a news briefing Tuesday afternoon, Adams said he was not fazed by the poll results.
"My understanding, correct me if I'm wrong, there was an excellent, an A, there was a good, B, there was a C, fair," he said. "Now, Mommy always told me to try to get an A, but she never told me I failed with a C. I think New Yorkers are looking, they're saying, 'We're going to give Eric a shot. We believe he's fair.'"
"I think that, you know, listen, a C is not an A. But a C is not an F," he added. "New Yorkers are hard judges and graders, we all know that. And so for a New Yorker to give you a 'fair,' they're saying, 'We're going to watch what you're doing.'"
Asked about the 56% of respondents who said they felt the city was headed in the "wrong direction," the mayor said many New Yorkers were influenced by "what blasts on our front pages every day."
"You may see a reality around you that things are doing well, but if you get on that J train and the first thing you see on the page is that someone was shot on the J train, you're going to disregard that," he said. "You know, you take that trip every day, and you're not a victim of a crime. [But] it becomes your reality."
"And so what I must do, I must continue to foster the optimism that we need to evolve out of the pandemic, and just be focused enough, you know, to do the things that we're doing, and they are paying off, and they're making results," he added.
The direction of New York state and the job approval ratings of Gov. Kathy Hochul are slightly better but still low, according to the poll.
Forty-six percent of city residents said the state is headed in the wrong direction and 38% said it's on the right track.
Asked to rate the job that Hochul is doing, 35% deemed it good or excellent while 54% called it fair or poor.
Responding to a question about the poll and New Yorkers' concerns about safety at a press conference Tuesday morning, Hochul noted that she signed a package of gun reform measures into law on Monday.
"Yesterday, we signed a nation-leading, historic violence prevention package that New Yorkers are just learning about," she said. "No governor has done as much as we have in as fast a time to address the specter of crime and gun violence in our streets."
"And we're not just talking about the mass shootings that occur in places like Buffalo," she added. "We're talking about everyday street crime."

Levy added, "12% say, 'I don't know,' so there's always that little bit in New York City that think the world is New York City."