Amid a global pandemic and a subsequent spike in crime that has yet to subside, it's perhaps no surprise that both issues are at the top of voters' minds heading into the June 22 mayoral primary.
More than half of likely Democratic voters, 51%, chose COVID-19 when asked the main problems facing the city in our exclusive Spectrum News NY1/Ipsos poll.
Crime or violence was second, with 39% calling it a main problem. Third place was affordable housing (37%), followed by racial injustice (27%). Respondents were given a list of 14 issues to choose from.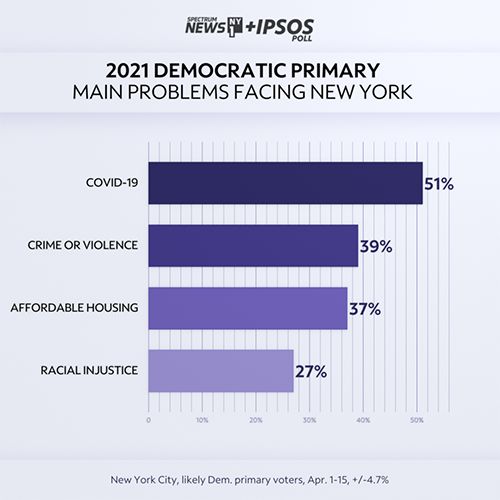 For all the attention on defunding the NYPD, particularly during last summer's protests in the wake of George Floyd's murder, police reform was far down the list, seen as a main problem by just 11% of likely voters.
Those numbers may help explain the state of the mayor's race, where two moderates, Andrew Yang and Eric Adams, lead the pack, trailed by more progressive candidates like Scott Stringer and Maya Wiley.
When asked more specifically what the next mayor's top priorities should be, stopping the spread of COVID-19 topped the list at 42%, while 34% said reopening businesses and the economy should be a top priority.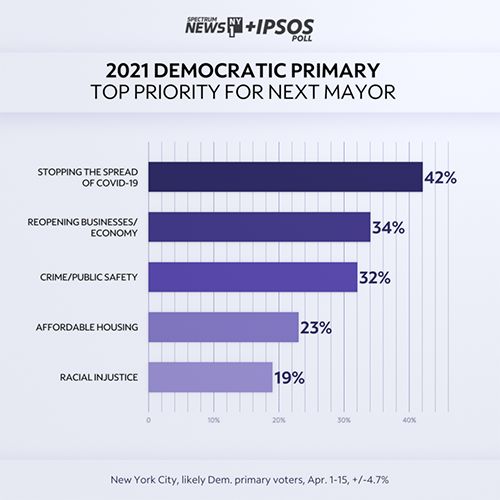 Crime and safety ranked third, the choice of 32% of likely voters. And that is good news for Adams, whose focus on fighting crime seems to be setting him apart from the rest of the field.
When voters were asked which candidate would best handle crime and public safety, Adams and Yang tied for first, each with 17%.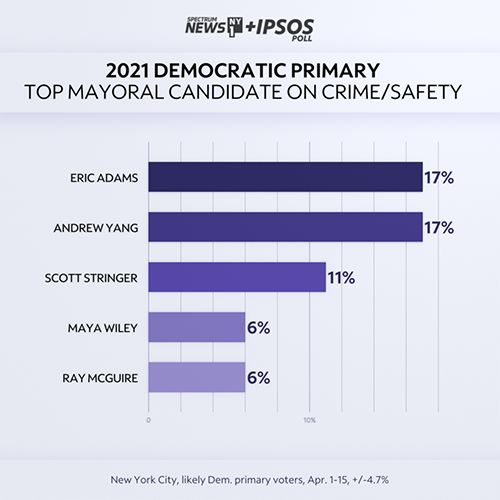 That was the only category in which Yang was not the clear-cut first choice. A plurality of voters said Yang would best handle four other top issues: stopping the spread of COVID-19, reopening businesses and the local economy, education and homelessness.
That bodes well for Yang, according to Mallory Newall, research director at the firm Ipsos, which conducted our poll and many others before it.
"The candidate that is strongest on the main issue wins a vast majority, like 80%, of the time," Newall said.
Likely voters were also asked the most important trait they'd like to see in the next mayor.
About a third of them, 33%, said it's most important the mayor share their values, while 30% said government experience. That would seemingly work in Adams' and Stringer's favor. Both have held multiple elected offices. Wiley, Shaun Donovan and Kathryn Garcia have also served in top governmental positions.
Meanwhile, 22% of likely voters said managerial experience is the most important trait. Voters invest far less importance in whether the mayor is an outsider (5%), a person of color (5%) or a woman (3%), which would suggest race and gender alone won't be a decisive advantage for candidates like Wiley, Ray McGuire, Dianne Morales and Garcia.