NEW YORK - Joshua Penafiel, his pregnant wife and three other family members could be among the first New Yorkers evicted since the pandemic began.

"We're stuck in between where are we gonna live and are we gonna have a roof over our head," he said.

Before COVID-19 hit the city, his landlord told him to leave in 90 days, that he wanted to move his own family in. Then in late March, Governor Cuomo's Executive Order 202.8 issued a sweeping 90 day moratorium on all evictions, recognizing that the surge in layoffs would leave many people unable to pay rent.

"There shall be no enforcement of either an eviction of any tenant residential or commercial, or a foreclosure of any residential or commercial property for a period of ninety days," the executive order reads.

That gave Penafiel and his family a three-month reprieve, but as soon as that expired in June, Penafiel's landlord went to court to evict him.

"100 percent confused," asked Penafiel. "How is it that the courts are still going?"

Cuomo extended his initial moratorium, but he narrowed the criteria for who qualifies.

"There shall be no initiation of a proceeding or enforcement of either an eviction of any residential or commercial tenant, for nonpayment of rent or a foreclosure of any residential or commercial mortgage, for nonpayment of such mortgage, owned or rented by someone that is eligible for unemployment insurance or benefits under state or federal law or otherwise facing financial hardship due to the COVID-19 pandemic for a period of sixty days beginning on June 20, 2020," according to Executive Order No. 202.28.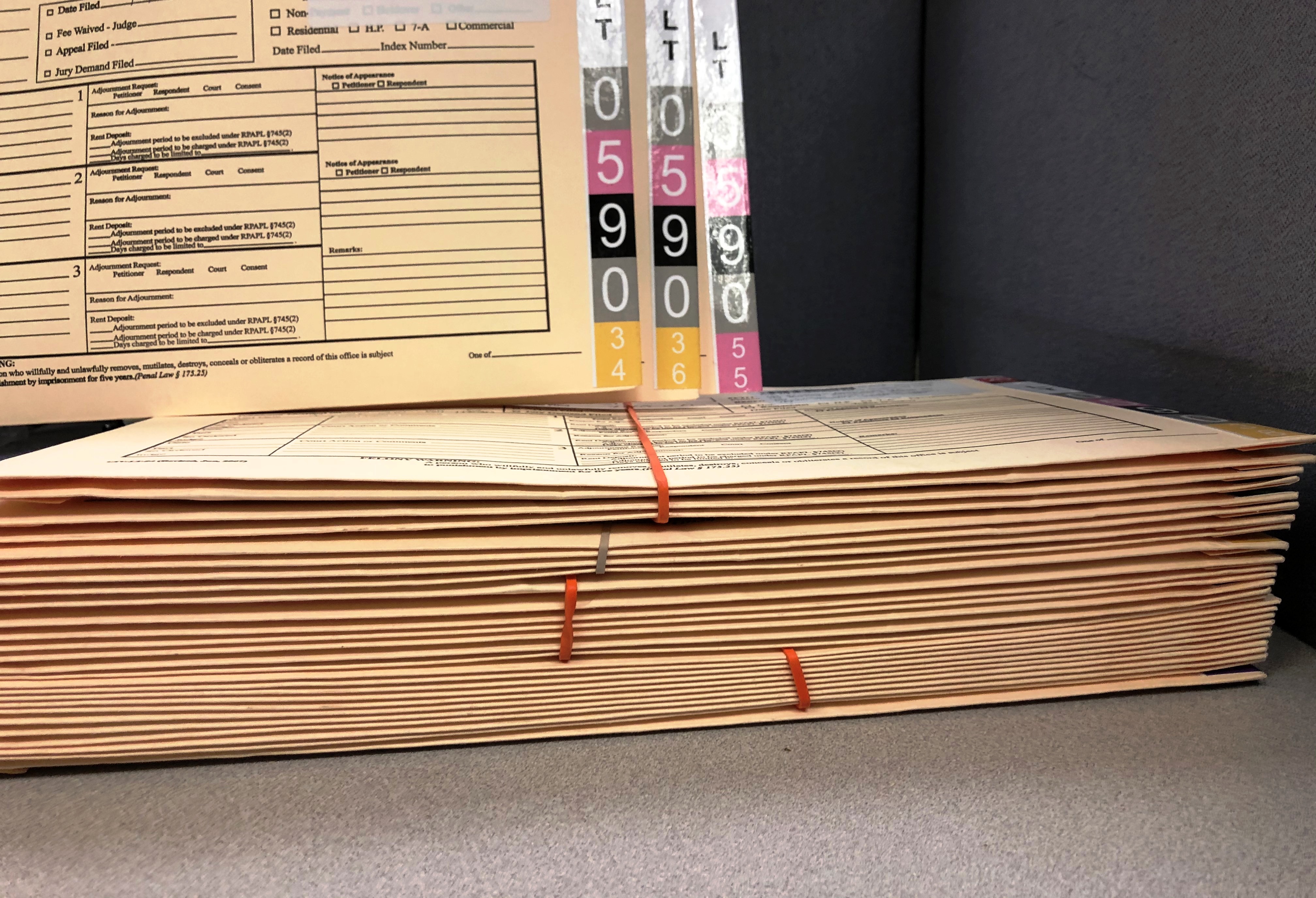 This excludes tenants like Penafiel - who is vulnerable because his lease expired and that's the main reason he's being evicted.
His case is one of at least 63 residential eviction cases recently brought in housing court by landlords in Queens and Brooklyn since Cuomo's initial moratorium expired. The cases offer a taste, experts say, of what is to come once all the bans on evictions end.

"It is likely going be as bad as the great depression and probably worse," said Susan Saegert, a Professor at the Graduate Center at CUNY who specializes in researching. "The relationship of housing and health and alternative housing policies to promote stable, sustainable affordable housing." She adds the worst case scenario can be avoided if there is "really sane and well execute public policy."

Analysts warn that half the renters in the country could be forced to look for new housing by the end of the year.

The predictions are anywhere from 19 million to 28 million renter households facing eviction by the end of September, said Eric Dunn, the Director of Litigation with the National Housing Law Project.

There are roughly 43 million renter households, so 20 million would be almost half, "massive displacement on an order we have not seen certainly since the great depression," said Dunn.

Since Gov. Cuomo's initial eviction moratorium expired on June 20, 719 eviction petitions have been filed. This is just a fraction of the petitions the court would typically receive in a five-week period in previous years.

Freezing the flood of filings for a time this year was a federal eviction moratorium as part of the Cares Act enacted March 27. It expired July 24. It prevented evictions from any building with even one federally subsidized rental or from a building with a federally backed mortgage like one from Fannie Mae or Freddie Mac.

Also stemming the flow of evictions in New York State is a new state law Governor Cuomo signed on June 30, the New York Tenant Safe Harbor Act (S.8192B (Hoylman)/A.10290B (Dinowitz)).

Landlords can now never evict tenants who experienced financial hardship during the pandemic for non-payment of rent between March 7 and whenever COVID-19 public gathering restrictions end.

Despite that, Abdelmounaim Leghmizi's landlord is evicting him for non-payment of rent. In March, he was only able to pay $370 of his $1800 rent and hasn't paid since.

"I got kids. I got wife, like no way to make it. I just feel i'm gonna be in the street, like my life, it's over," Leghmizi said.

His is one of two eviction petitions filed in Brooklyn and four in Queens that NY1 found which appear to flout the June 30th law. The documents are filed as None Payment Eviction Petitions and the claims of rent payments missed begin in March of 2020.

Leghmizi's landlord does not plan to drop the case, he wants to see how it will play out in court. He says several other tenants aren't paying rent either and he still needs to pay taxes and utilities on his building. More on the landlords' side of the story in our next report.