It was two minutes before midnight when the City Council approved a new $88.2 billion budget. The plan was approved by a vote of 32 to 17.
---
What You Need To Know
De Blasio: $88.2B budget agreement to cut $1B from NYPD.


Some funds will be redirected to youth services, public housing.


Billions will be cut across other agencies, too.


$1B in "labor savings" are included in the budget.


New cuts are on top of billions of dollars in cuts earlier this year.


Protesters, Council Speaker: These aren't direct cuts to the NYPD, they don't add up to $1B.
---

It was a much closer budget tally than in recent years, when typically only a few council members voted against the budget. Previous budgets under de Blasio also passed much earlier, such as the last one that passed in the middle of June 2019.
De Blasio said the budget will achieve over $1 billion in cuts to the NYPD, although City Council Speaker Corey Johnson and activists dispute that figure.
The mayor said the budget will slash billions more across other agencies as the city grapples with the economic fallout from the coronavirus pandemic.
Cuts to the NYPD come after tremendous political pressure on City Hall after the death of George Floyd. The NYPD cuts were a priority for the City Council. As recently as Friday, de Blasio would not commit to the $1 billion mark, although he did say he wanted some cuts to the police department's budget.
The mayor announced the budget deal solo on Tuesday. No representative from the Council, not even Johnson, was beside him. Typically the Council and the mayor hold a ceremonial press conference in City Hall's rotunda. Not this year.
The mayor said the budget emphasizes "safety and fairness" and will reach more young people than ever before.
Details of the cuts to the NYPD were slim Tuesday.


But we do know there will be no July class of NYPD recruits (about 1,200 officers), there will be a massive reduction in overtime spending, and a reduction in non-personnel spending. The overtime budget for the NYPD was budgeted for $523 million. That was cut by $296 million.
The budget would shift school safety agents from the purview of the NYPD to the city education department. The city will also transfer crossing guards and homeless outreach out of the NYPD. There will still be a police class for new recruits in October.
While slashing the NYPD, the mayor and Council agreed to redirect some funding to youth services — $115 million for summer youth programming, $116 million for education, and $134 million for family and social services. As of Tuesday, details were slim on those items as well.
About $537 million will be shifted away from the NYPD in the capital budget as well — $450 million will go to NYCHA and to youth recreation centers.
NY1 has learned of one example of this funding shift.
For years, community leaders in southeast Queens had asked for a new police precinct. That was supposed to break ground late last year. It never did. Now that money is being redirected to a nearby park: Roy Wilkins Park.
Outside of the NYPD, the budget does not raise any taxes. It cuts another $1 billion in spending from the mayor's executive budget in April, and includes another $1 billion in "labor savings." A spokesperson for City Hall says unions have agreed to work with the administration to find those savings.
Earlier this year, the mayor closed an $8.7 billion budget hole at the time of his executive budget. That plan used $4 billion in reserves, cut $2.7 billion from agencies, and used $2 billion in funding from the federal government. The new cuts are on top of those actions earlier this year.
Council Speaker: "I Tried Really Hard" to Cut the NYPD Budget Further
The budget deal left many dissatisfied, from both ends of the political spectrum and even from the Council's own leadership. Reformers accused lawmakers of using budgetary tricks and failing to make actual structural changes to the department.
Johnson wanted to cut the NYPD budget by $1 billion. The cuts, the speaker says, do not go far enough.
"I'm not saying we got $1 billion," Johnson said Tuesday afternoon. "I did my best to get there."
The speaker said the cut to the NYPD is above $800 million but does not reach $1 billion.
Since the mayor announced on Monday he would agree to cut $1 billion to the NYPD, activists and critics have questioned the mayor's math. The speaker too said the numbers don't add up.
"I am disappointed as well," the speaker said. "I wanted us to go deeper. I wanted larger headcount reductions. I wanted a real hiring freeze."
There is a question of whether the mayor is including health care and other fringe benefit savings in his $1 billion figure. NY1 has asked City Hall for a detailed breakdown of the cuts and have yet to receive it.
The speaker said he had wanted all NYPD academy classes canceled for the next year. The July class is canceled, but an October class is included in the budget. Johnson said he also unsuccessfully fought for a police hiring freeze.
During his press conference Tuesday afternoon, Johnson repeatedly said the Council was passionately split on the issue of defunding the police. The Council also faced intense opposition from City Hall to deepen cuts.
A Contentious Vote
Tough. Historic. Brutal.

Those were just some of the words used by council members as they cast their votes after weeks of protests and negotiations, centered on cutting $1 billion from the NYPD.

While the council speaker said the City Council did not go far enough, Johnson was still able to secure enough votes to push the budget through.

Imperfect, many council members said, as it may be.

"I am disappointed as well," Johnson said. "I wanted us to go deeper. I do wish we had done more to cut the NYPD, but I do know this fight is not finished."

He went on: "I am really grateful for every Black member the City Council. Our Black colleagues have inspired me."

Typically there is little opposition during the budget vote. Tuesday's vote was especially unusual and showed deep divisions in the City Council. Republican members voted against it for cutting the NYPD, arguing it would put public safety at risk. Some alleged the city would become more violent.

Councilman Robert Holden of Queens called protesters "anarchists."

More progressive members voted no because cuts did not go far enough.

Brooklyn Councilman Carlos Menchaca voted no, saying the budget protected dangerous police officers.

Others rationalized their votes with youth or senior programs, saying it would provide services to poor and minority neighborhoods in the midst of a deep economic crisis.

Queens Councilwoman Adrienne Adams, the co-chair of the Council's Black, Latino and Asian Caucus, voted yes.

"We learned a long time ago there is no price tag to ending racism," Adams said. "When those with privilege put down their torches and return home, our Black, Latino and Asian communities will remain."

In Manhattan simultaneously, protesters occupied Centre Street, just steps away from City Hall. They were demanding more from the City Council, more cuts from the NYPD.

But the Council held its vote virtually. Many members were sitting in their own homes on Zoom. It's unclear if members heard those protesters.

The full vote breakdown is below.

YES
Adrienne Adams
Alicka Ampry-Samuel
Diana Ayala
Justin Brannan
Fernando Cabrera
Andrew Cohen
Margaret Chin
Robert Cornegy
Daniel Dromm
Mathieu Eugene
Vanessa Gibson
Barry Grodenchik
Andy King
Peter Koo
Karen Koslowitz
Rory Lancman
Stephen Levin
Mark Levine
Farah Louis
Alan Maisel
I. Daneek Miller
Francisco Moya
Bill Perkins
Keith Powers
Ydanis Rodriguez
Debi Rose
Rafael Salamanca Jr.
Ritchie Torres
Paul Vallone
Mark Treyger
Laurie Cumbo
Corey Johnson

NO
Inez Barron
Joe Borelli
Steven Matteo
Chaim Deutsch
Ruben Diaz Sr.
Mark Gjonaj
Robert Holden
Ben Kallos
Brad Lander
Carlos Menchaca
Donovan Richards
Antonio Reynoso
Carlina Rivera
Helen Rosenthal
Eric Ulrich
Jimmy Van Bramer
Kalman Yeger
Council Members Say They Were Harassed by Reformers
Before the vote, council members described a tense atmosphere within the legislative body, with some members on Tuesday assailing many protesters and activists as outsiders with overly simplistic solutions whose tactics bordered on harassment, after their personal phone numbers were spread on social media.
Johnson also reported that his partner's home was vandalized and people have been ringing his buzzer at all hours of the night.


"The majority of the folks that are out there talking about changes and reforms do not represent everyone that lives in our communities," Democratic Bronx Councilwoman Vanessa Gibson said.
"Become a part of this community on a level that's deeper than a hashtag, on a level that's deeper than calling your Council members for the first time ever in your life," said the Council's majority leader, Laurie Cumbo.
Others in the Council leaned in the opposite direction, feeling the budget was too severe a hit on the NYPD after several weeks of rising crime.
De Blasio, meanwhile, rejected the idea that the $1 billion figure was a gimmick. And he said this was a step in the direction of real reform.
"If money that agency was planning to spend is no longer in their budget, that is savings by any measure," he said.
Clearly a sign of how contentious negotiations had become, the mayor and the council speaker held separate press conferences on Tuesday. Typically, the council speaker and the mayor hold a ceremonial press conference at City Hall to shake hands on a new budget. It appeared COVID-19 was not the reason why that press conference was nixed. Perhaps it was bad blood.
Asked about the separate press conferences, the speaker said, "The mayor gave his press conference and announced where he was and I am giving my press conference."
Cumbo says the movement forward is "a process."
"Today is a critical moment for Black people all across this country," Cumbo said. "We wanted to reflect what we saw in terms of the outcry, the young people that have taken to the streets all across this country and this world."

Public Advocate Threatened to Derail Budget
The Public Advocate claimed Tuesday morning he could use a little-known maneuver in the city charter to derail the budget's enactment.
Williams released this statement Tuesday morning:
"As we near the final budget vote, it has become clear to me that this budget ignores some of the most critical elements of reducing NYPD funding and redefining public safety. Unless it meets those needs, I will use my Charter authority as Public Advocate under Ch. 58, Section 1518, to prevent the budget from being executed during the final tax warrant process."
The Public Advocate is demanding a full hiring freeze at the NYPD and a full commitment to transition away from the current school safety model. The mayor has already agreed to remove school safety agents from the NYPD and put them under the Department of Education as part of a multi-year plan. Williams says that is not enough — he wants to "reimagine" public safety in schools.
City Hall brushed off the threat, saying the Public Advocate does not have the power to derail the budget.
The mayor's press secretary, Freddi Goldstein, sent us this statement:
"The NYPD budget is being cut by a historic $1 billion while maintaining safety on our streets. We've reached a fair deal that prioritizes our youth and communities most in need. That's what New Yorkers need as they attempt to rebuild from a global pandemic that made our city the epicenter. The budget is effective as soon as Council passes it and is certified only by the mayor, comptroller, and city clerk."

It's unclear what Williams will do now that the Council has passed the budget.
Protests Over Budget Talks
Earlier Tuesday, police reform protesters, unhappy with the budget negotiations, collided with police Tuesday morning as they blocked streets outside City Hall and One Police Plaza.
At one point they tried forming a human wall, prompting officers to move barricades to corral them back to the park across from City Hall.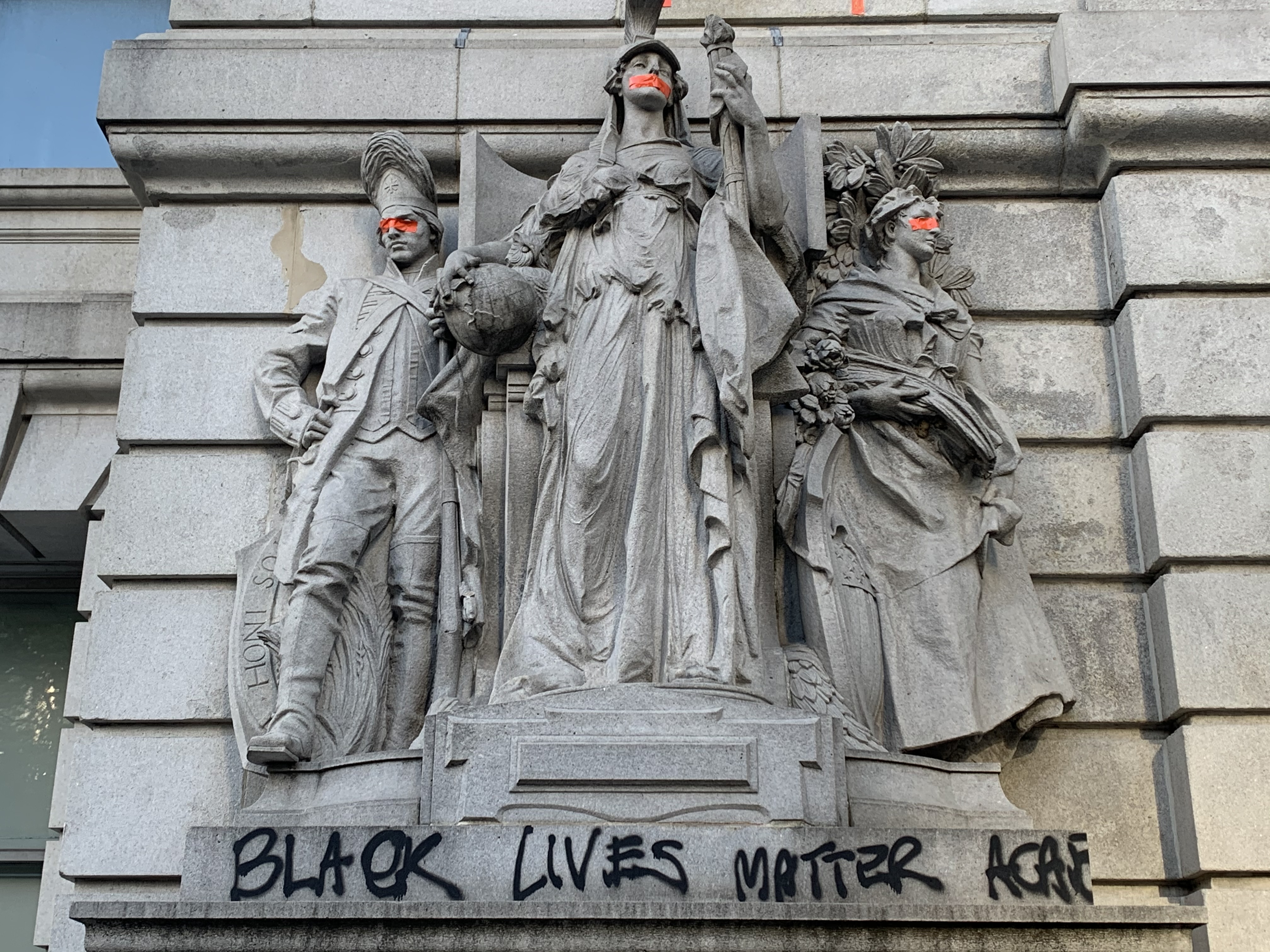 There was also a scuffle between police and protesters outside the Surrogate Courthouse across from City Hall, where the building's facade and statues were defaced with phrases including "Black Lives Matter" and "No Justice."
One person was arrested on several charges including graffiti and disorderly conduct.
Police sources said another person was taken into custody.
The "Occupy City Hall" movement has been going on for about a week and they're vowing to remain camped out until the budget is passed.
Many were happy to hear the mayor was coming around to their demands, but others remained skeptical.
------
Looking for an easy way to learn about the issues affecting New York City?
Listen to our "Off Topic/On Politics" podcast: Apple Podcasts | Google Play | Spotify | iHeartRadio | Stitcher | RSS
-----
FURTHER CORONAVIRUS COVERAGE
What to Do If You Test Positive for COVID-19
How Hospitals Protect Against the Spread of Coronavirus
Coronavirus Likely Spreads Without Symptoms
Coronavirus: The Fight to Breathe
Experts Say Masks Are Still a Must
The Race for a Coronavirus Vaccine
The U.S. May Face a Second Wave of Coronavirus Infections
Cuomo Granted Broad New Powers as New York Tackles Coronavirus