6:42 p.m., 3/15/20:
New York City schools will close until at least April 20 due to the coronavirus outbreak, Mayor Bill de Blasio announced Sunday afternoon.
New York City schools will be closed starting Monday morning.
The city will attempt to reopen schools after the spring break, on April 20.
Students will instead engage in remote learning starting on March 23.
The closing of schools followed immense pressure from parents, teachers, and unions. For more on that, and what it's like inside schools amid the outbreak, see Jillian Jorgensen's story below.
3:32 p.m., 3/15/20:

In a conference call Sunday around 3 p.m., Gov. Andrew Cuomo backed calls to close New York City schools amid the new coronavirus outbreak, as long as contingencies are in place for child care and prividing food for students.
Cuomo says he wants a plan that allows for some schools to remain open as child care centers for parents who are essential workers. Mayor Bill de Blasio has expressed concerns about the closure of schools, in part, because he fears health care workers — whom the city needs to tackle the crisis directly — will stay home to take care of their kids if schools are closed.
In the conference call, the governor said the city shouldn't take more than 24 hours to develop a plan to close schools.
For more on that, and what it's like inside schools amid the outbreak, see our Jillian Jorgensen's story below.
------
A teacher down to her last Lysol wipe. A soap dispenser with a dead roach inside. A school with no isolation room for students with fevers.
Those are some of the stories that have been pouring in to NY1 after a call for teachers to reach out with their experiences in city public schools — which, as of Sunday afternoon, are set to open for the week on Monday, despite the growing spread of the new coronavirus.
Almost all of the teachers wished to remain anonymous, fearing retribution, even as their union, the United Federation of Teachers, has publicly called for schools to close.
Pressure to Close NYC Schools Mounts as Acting Queens Borough President Urges Parents to Keep Children Home

A call for a sick-out — for teachers to stay home Monday in protest — is also growing among teachers. But some educators are warning it would be a mistake, and a violation of the state's Taylor Law, which prevents municipal workers from striking or taking other job actions, like a sick-out.

One educator warned of possible dire consequences for a sick-out, writing, "Doing this while in a national, state, city state of emergency would end the teachers' union, the contract, and public trust."

Mayor Bill de Blasio, meanwhile, had strong words for teachers who don't want to head back to work, noting that first responders, health care workers and sanitation workers are all coming to work.
Attendance in City Schools Plummets Amid Coronavirus Concerns

"The teachers who feel differently, they have a right to protest all they want. And they know what their contractual rules are and they have to make a decision. But there are rules of employment and the folks who are showing up and doing their work are the vast majority. That is the fact," he said.

The mayor has repeatedly argued employees who need to report to work, especially health care workers, need schools to remain open so their children can be supervised during the day.
The health care workers union, 1199 SEIU, initially opposed closures, saying its members depend on city schools, but a source close to the talks told NY1 progress was being made in conversations between the city, 1199, and the UFT.
Sunday afternoon, George Gresham, the president of 1199, called on the mayor to close schools and said the union was in talks to provide child care through school resources centers.
"I am confident that a plan will be reached to ensure that these children receive the care they need while their parents work. I also encourage the state and city to look into allocating additional funding for childcare for the children of healthcare workers and other essential employees," Gresham said in a statement.
Dos and Don'ts for Cleaning Your Phone

Many teachers say they feel insulted by the mayor's comments.

"I went to college to become an educator, not a child care provider. I am deeply saddened and insulted by our mayor," one said.

Frustration and fear among teachers is growing. Dozens told NY1 their schools were not getting the "deep cleanings" de Blasio has promised. Many said their schools have no hot water in bathroom sinks.

And then there was that roach in the soap dispenser, in the teachers bathroom of one school:



In a Bronx middle school, a teacher said staff were given a single roll of paper towels and one bottle of spray cleaner last week, along with this note: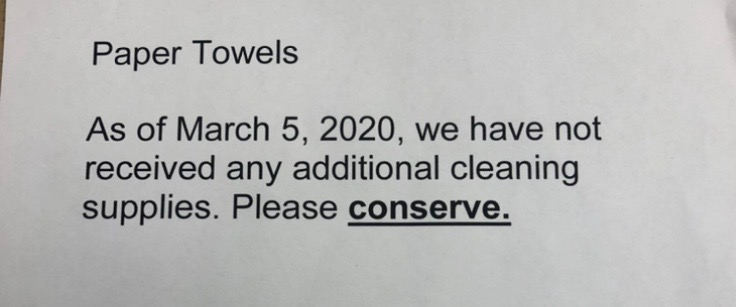 "As teachers we have been scrubbing down desks with lysol wipes twice a day. We are low on tissues and hand sanitizer since we have used them since the beginning of the school year. AND in fact we were asked to donate some of our items to other teachers and staff members that don't have any," another teacher wrote.

Another teacher said the bathrooms in their school was stocked with soap and paper towels, but that's about it, with surfaces elsewhere in the school remaining dirty after promised "deep cleanings."

"We have not been given any hand sanitizer to use in the classrooms, nor has there been a station with hand sanitizer for students to use on their way to the lunch room," the teacher wrote.

It's not just cleaning supplies — teachers say the policies requiring students to be isolated if they have a fever are not being correctly implemented in some schools.

"We are supposed to have an isolation for sick students and we don't have an isolation room," a teacher in a District 15 school in Borough Park told NY1.

About a dozen students left that school with fevers on Friday — and the teacher fears they may come back to school without being tested for the virus.
Meanwhile, there are staff members in the school who are older than 65, or who care for elderly parents.

"There were no precautions taken in place, no plan for anything," she said. "It's very upsetting for the teachers."

Still, the teacher says her school doesn't have the capacity to send students home with iPads or laptops, and that many of her students are low-income.

"I still have mixed feelings. I have a lot of empathy for my students," she says.

Attendance plummeted at schools last week, and many teachers expect it to drop again Monday. They say it's difficult to do much teaching — one reported having between 8 and 12 students in each class on Friday.

"There weren't enough students to do any meaningful work that wouldn't have to be retaught Monday. And the energy was different. They couldn't be expected to focus on anything," the teacher said.

Social distancing can seem impossible in big schools, with hundreds of students sharing the hallways during passing or crowding into cafeterias for lunch.

Teachers at Brooklyn Tech — the biggest high school in the country and the one de Blasio's son Dante attended — issued a plea to close the school in the form of an open letter to the mayor.

"New York State recently prohibited gatherings of 500 people or more. Nonetheless, our
cafeteria holds in excess of 800 students during every lunch period (some periods have over
1,400 students). New York State recognizes the danger of these gatherings, yet, City officials
continue to ignore that such gatherings happen in our school multiple times every day. Mr.
Mayor, your own son recently graduated from Tech. You must know how crowded it is." they wrote.

While the mood is grim in many schools, some teachers are trying to get through a tough time using a bit of humor. At one school, teachers are planning to wear shirts on Monday that say: "Keep Calm and Wash Your Hands."

They also created a TikTok video they say shows what it's like to be a teacher in a city public school these days:

------
FURTHER CORONAVIRUS COVERAGE
How Hospitals Protect Against the Spread of Coronavirus
Cuomo Bans Gatherings of 500-Plus as More Coronavirus Cases Confirmed
NYPD Officers Prepare to Combat Novel Coronavirus Spread
NYC Businesses to Be Fined If Caught Price Gouging Face Masks
MTA Crews Cleaning to Prevent Coronavirus Spread
Testing for New Coronavirus Can Now be Done by City, Results Available Within Hours
NYC Schools Prep for Coronavirus as Teacher Goes Into Self-Quarantine
Cuomo Granted Broad New Powers as New York Tackles Coronavirus