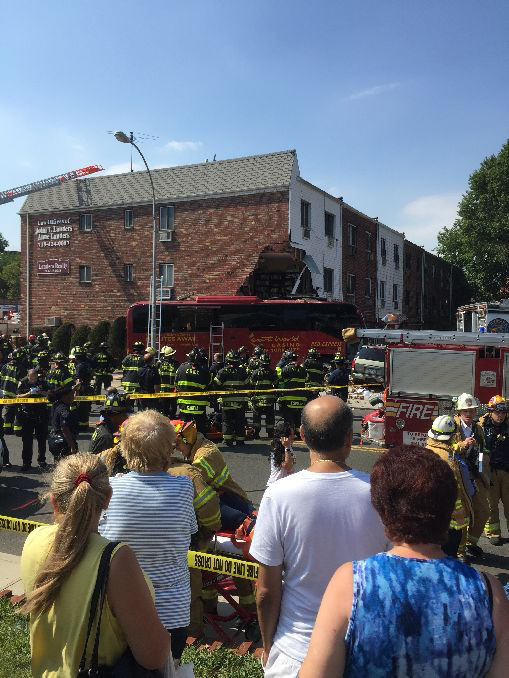 Investigators are trying to figure out why a bus slammed into a building in Queens, sending six people to the hospital. Five were on the bus, one in the building. NY1's Ruschell Boone has the story from Rego Park.
The Trans Express bus, which serves the Resorts World Casino, slammed into a building on Woodhaven Boulevard with such force you could actually see straight into the business on the first floor and an apartment above. The impact sent bricks, glass and debris flying.
"I lifted one guy and I put him inside to help. The people inside couldn't get out," said one bystander.
That included the bus driver, who witnesses say was trapped under the debris. Although badly hurt, they say he was responsive.
"He was conscious. He was talking to emergency services. He gave the thumbs up while he was being pulled out of the rig," another bystander said.
AnnMarie Constantinides was crossing the street when she says she saw the bus swerve out of the newly-installed bus lane on Woodhaven Boulevard to avoid a collision with a compact vehicle.
"A guy in the lane next to him wanted to make a right, and instead of slowing down, they were both going pretty fast, so in order to avoid the guy making the right, right in front of him, the bus swerved and ended up crashing into the building," she said.
Constantinides ran over to help.
"People were trying to get out and banging on the windows. They were panicking, so people who stopped by too were trying to open up the windows and get all the passengers out, too. Then, like, seconds later is when all the cops and ambulances and fire trucks started coming," she said.
Firefighters continued the rescue and secured the building. The Buildings Department inspected the structure, and about four hours after the crash, the bus was finally removed.
Both Trans Express and Resorts World Casino say they're cooperating with the investigation.