On the cover of a November 1860 issue of Harper's Weekly Magazine, a flattering image of Abraham Lincoln is said to have helped him get elected President of the United States. It's just one example of the impact magazines have had throughout the nation's history, and even before the country was born.
The issue is part of the collection of Doctor Steven Lomazow, a neurologist by profession, one of 80,000 issues he owns. Hundreds are on display at the Grolier Club on East 60th Street as part of an exhibition called, "Magazines and the American Experience."
---
What You Need To Know
Magazines and the American Experience is on display at the Grolier Club in Midtown through April 24

The magazines are part of the collection of Dr. Steven Lomazow

Issues date back to the early 18th Century

One major theme of the exhibit is the African-American experience in America as told through Magazines
---
"This exhibition is the epitaph of the American printed magazine", said Lomazow, who first started collecting while in medical school in Chicago. Originally he was interested in collecting anatomy atlases, but a trip to a book store and the mystery of an issue of an old magazine changed his direction.

"I opened it up and it said, volume one, number two, so I said to the book dealer, what happened to volume one number one, and he says nobody knows, I was hooked," said Lomazow.

A major theme of the exhibit is the African-American experience through magazines including Mirror of Liberty, the first magazine edited and owned by blacks, published by David Ruggles. He assisted fugitive slaves through the Underground Railroad in New York.

"The slaves that he liberated idolized him with respect for his ability to publish, one of them was Frederick Douglass." said Lomazow, who added that Douglass himself would go on to publish as well during his time as a social reformer and abolitionist.

As you move through the exhibit you find Jackie Robinson on the cover of TV Guide, and also editing his own sports magazine. There is also a section devoted to the rise of influential publisher John Johnson, founder of Jet and Ebony Magazines, the first African-American to appear on the Forbes 400.

There are magazines dating back to 1733, and from more modern times. Lomazo says while the rise of digital content has impacted the magazine, they continue to grasp the attention of readers in any form.
"There are still thousands and thousands every year of new specialty magazines being published in print and online, so it will evolve, it will change," said Lomazow.

Visitors can see this impressive sampling of Lomazow's collection through April 24th at the Grolier Club. It is free and open to the public but because of COVID-19, reservations must be made at least 48 hours in advance and masks must be worn.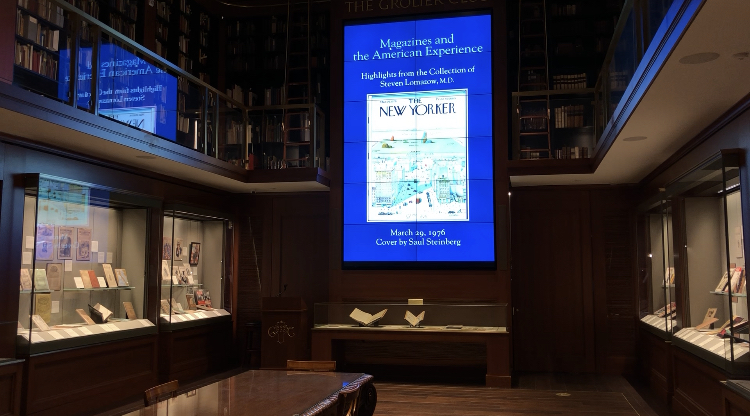 For more information: www.grolierclub.org