What is the SHSAT?
The SHSAT, or Specialized High School Admissions Test, is the test that students take to try and get into one of the city's prestigious specialized high schools.
What is a specialized high school?
There are nine specialized high schools in New York City. According to the Department of Education's website, the city's specialized high schools "serve the needs of students who excel academically and artistically."
Admission to one– the Fiorello H. LaGuardia High School of Music & Art and Performing Arts – is determined by auditions.
Admission to the other eight – the Bronx High School of Science, the Brooklyn Latin School, Brooklyn Technical High School, High School for Mathematics, Science and Engineering at the City College of New York, High School of American Studies at Lehman College, Queens High School for the Sciences at York College, Staten Island Technical High School and Stuyvesant High School – is determined solely by the SHSAT.
Who takes the SHSAT?
Any student in eighth grade, or a first time ninth-grade student, who wants to get into one of the city's specialized high schools is required to take the test.
What languages is the test given in?
English,Arabic, Bengali, Chinese (Traditional and Simplified), French, Haitian-Creole, Korean, Russian, Spanish, and Urdu.
How is it graded?
The test consists of two sections – an English Language Arts section and a Mathematics section. Each student is given a scale score for both the English Language Arts and Mathematics sections of the test, based on how many questions they got correct. Those two scores are added to make a composite score.
The maximum composite score is "around 700, according to the DOE.
How is admission determined?
When students take the SHSAT, they list their choices for which specialized school they would like in order of preference. Then, each student who took the test is ranked on a scale from highest score to lowest score.
The students who scored the highest get placed into their top-choice school. If a student's first choice is selected by the time their score comes up in the placement process, they are placed in their second-choice school. If their second choice is selected, they get placed in their third-choice school.
What does the actual SHSAT look like?
Both sections of the test are made up of 57 multiple choice questions.
There are two separate parts under the English Language Arts section. The first is a revising/editing section, where a student's ability to recognize and correct language errors is assessed. Here is an example: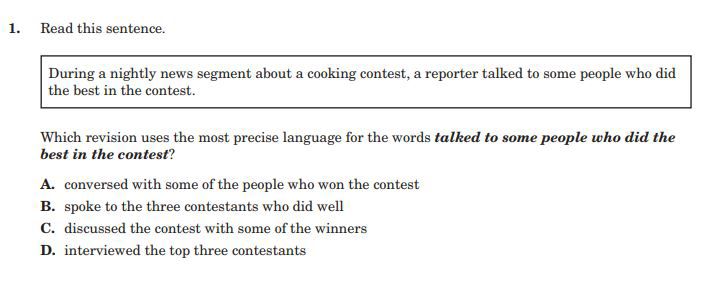 The second part is a reading comprehension section, which tests a student's ability to understand, analyze and interpret texts.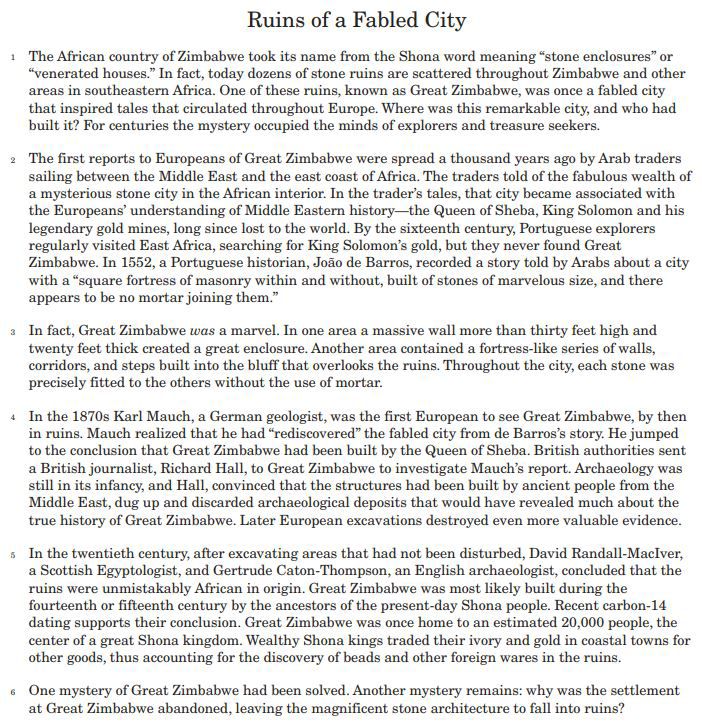 Here are some examples of the math questions on the test: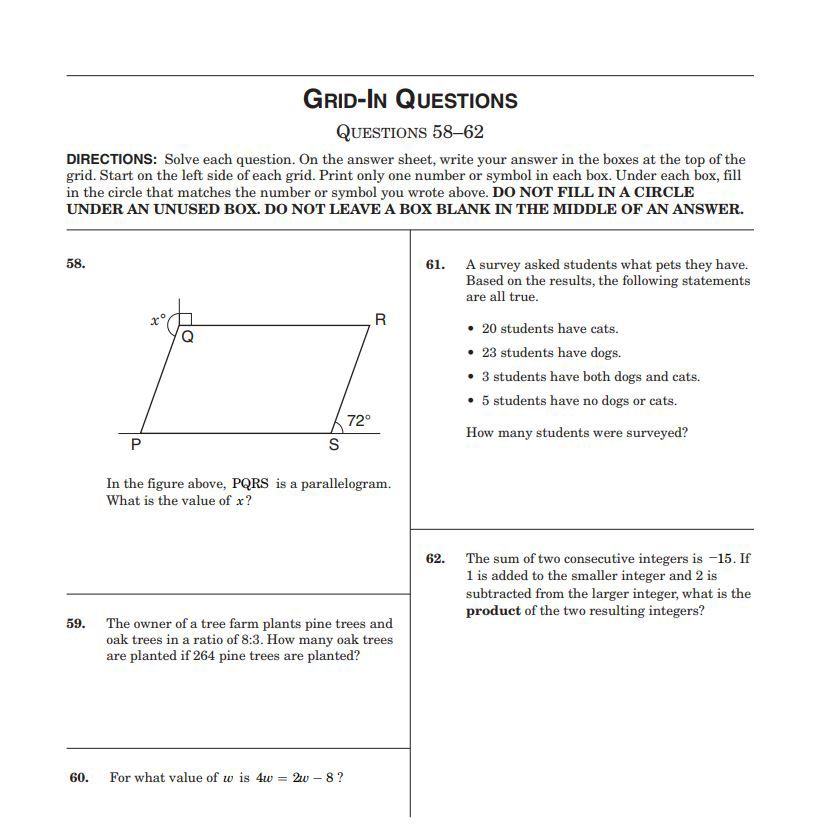 What are some tips for how to succeed on the test?
Many students begin studying for the test early on.
"I waited [to study] till I was like maybe sixth grade." – Edgar Cadrera, Bronx.
"Aniqua is a hard worker and she always did good with [tests]. She got a start in Head Start when she was two years and 9 months old and then she took a test [for] Gifted and Talented program and she got a really high score."
And they study often.
"So yesterday, I took about an hour or so. I'm taking an hour each day to take a bit of the problems or take a little longer studying." – Edgar.
"My parents are extremely strict about me. They do say finish your homework and they do say do your SHSAT [prep]." – Aniqua Chowdhury, Jackson Heights
They get tutors outside of school prep.
"At A Plus Academy we're just doing test prep, so most of it is in English….In math, we don't go over the many of the topics in school so most of them over the summer were new to me. – Isabella Ng, Staten Island.
"I think when it comes to any education space, you always get the feeling that it gets tougher and tougher to achieve the previous generation's achievements. So when I was in Bronx [High School of] Science in 1998, there weren't that many tutorials." – Dr. Ivan Khan, Khan Tutorial.
FAQ
1. What is "special" about "specialized high schools"?
Specialized high schools are just like any other high schools, except that students in specialized high schools have been offered admissions based on their SHSAT score. Admissions in non-specialized high schools are based on other criteria such as previous academic records or residential location of the students.
In general, most students in specialized high schools have a certain minimum level of academic skills in math and English, which helps them to perform well in high school. As a result, Regents scores, SAT scores and college admission rates in specialized high schools are generally higher than other high schools.
2. Are there any writing or open-ended questions?
No, there are no writing questions. All questions are multiple choice questions. Each question comes with five possible answers.
3. I did not do well in fifth, sixth and seventh grades. Would I be eligible to take the SHSAT?
Yes. Previous performances are not considered for the SHSAT.
4. What is the total score for the SHSAT?
800.
5. Do all correct answers get the same points?
No. The Department of Education evaluates the test based on a "secret" formula. So some questions are worth more points than others.
6. Is there any negative scoring?
No, all incorrect answers are ignored. That's why students should mark answer for all questions, including the ones they don't know.
7. How long is the test?
In terms of number of pages, SHSAT runs to about 25 pages. In terms of time, you have 150 minutes for the entire test.
8. What is the "passing score" for the SHSAT?
There is no passing score for the SHSAT. Out of about 30,000 students who take the test, about 3,000 to 4,000 top-scoring students are offered admissions in specialized high schools.
9. If a student gets 500 out of 800, will he/she get SHSAT admission?
If 3,000 to 4,000 students get 501 and above, the student with 500 will not get an offer! But in the past years, the lowest score for admission is around 470 out of 800.
That means only about 3,000 to 4,000 students score about 60 percent and more. The remaining 25,000+ students score lower than 60 percent.
10. What are the cut-off scores for each specialized high school?
The cut-off scores vary each year. Here are approximate cut-off scores for a few specialized high schools:
Stuyvesant – 560 to 570
Bronx Science – 495 – 500
Brooklyn Tech – 475 – 480
11. How many times can a student take the SHSAT?
Just twice. Once for 9th grade admissions (when the student is in 8th grade) and the next for 10th grade admissions (when the student is in 9th grade).
12. Who is eligible to take the SHSAT?
A student must live in one of the five boroughs of New York City to be eligible to take the SHSAT.
Additional resources
- The DOE's SHSAT handbook for the 2018-2019 school year
- DOE FAQ on the SHSAT
- Updates to the Fall 2018 test