For the past few months, Andrew Yang has been treated as the frontrunner in the mayor's race by both the media and his fellow candidates, despite the fact there had been few reliable polls in the race.
Now comes supporting evidence: our exclusive Spectrum News NY1/Ipsos poll, released Monday, shows Yang firmly in the lead.
In one of the most extensive polls yet on the race, Yang captured the support of 22% of likely Democratic voters. Brooklyn Borough President Eric Adams sits nine points back in second place, at 13%.
The poll also shows signs of life for city Comptroller Scott Stringer, whose candidacy seemed to have stalled in recent months. He's the only other candidate to reach double digits, with 11% support. Maya Wiley, who served as top attorney in the de Blasio administration and an MSNBC analyst, trails behind in fourth place at 7%.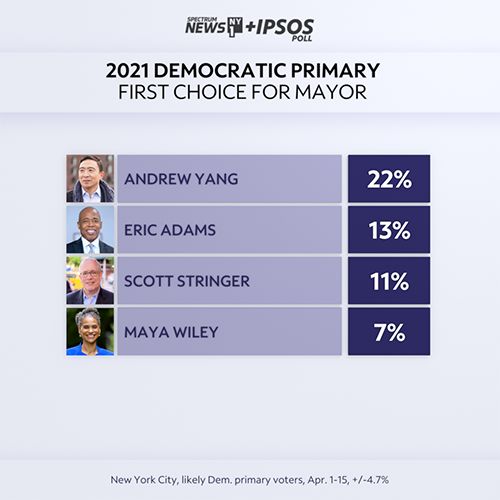 The rest of the candidates — former Citi executive Ray McGuire, former Obama cabinet member Shaun Donovan, former nonprofit leader Dianne Morales and former Sanitation Commissioner Kathryn Garcia — are bunched together in the mid-single digits.
The good news for those lagging behind is that more than a quarter of likely voters, 26%, remain undecided. And many of the candidates are sitting on millions of dollars in unspent campaign funds, allowing them to blanket the airwaves in the coming weeks with ads intended to sell New Yorkers on their visions for the city's future.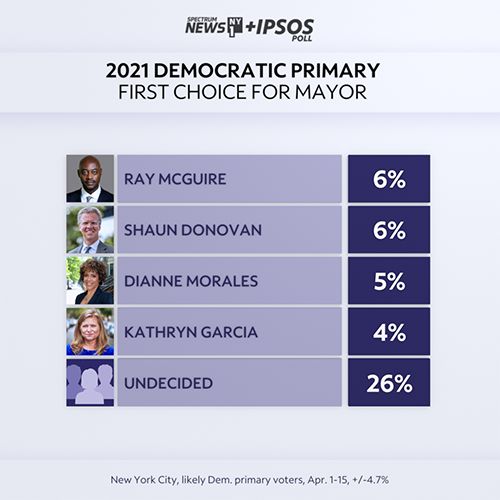 Advertising could prove to be pivotal because many of the top candidates remain largely unknown to voters. According to the poll, 77% of likely voters say they're familiar with Yang, who earned a national profile with his scrappy, overperforming campaign for president. Sixty-one percent say they're familiar with Stringer, and 53% with Adams.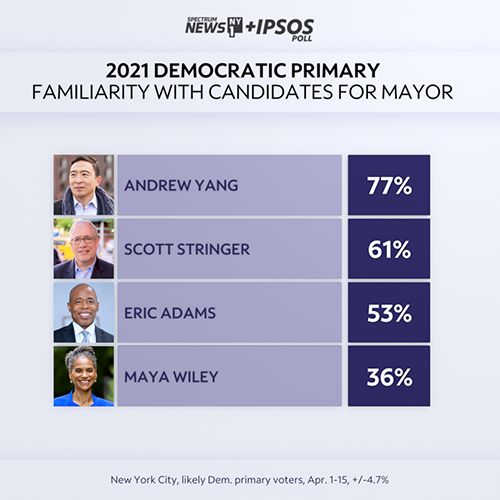 But from there, it's a steep dropoff. Maya Wiley is familiar to just 36% of voters, followed by Donovan (35%), McGuire (32%), Garcia (29%) and Morales (25%).
One wrinkle to the primary: It will be the first to feature ranked-choice voting, which allows voters to rank as many as five candidates in order of preference.
The ranked-choice tabulation kicks in if no candidate wins more than 50 percent of the vote, a distinct possibility in this crowded field. In that scenario, winning second-place votes takes on critical importance.
Here, the poll provides a bit of encouraging news for Stringer. He garnered the most support, 14 percent, when voters were asked their second choice. But Yang also performed well, with 13 percent of second-place votes, perhaps a function of his name recognition.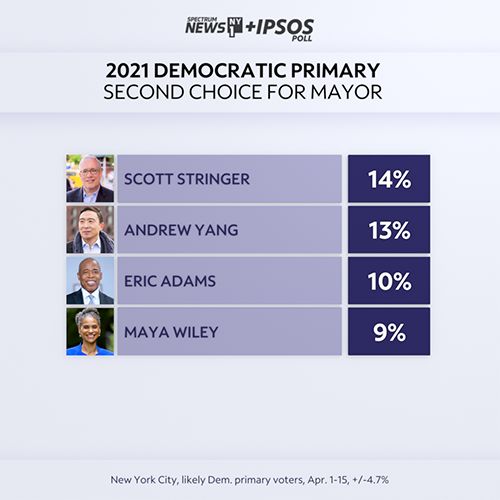 Many in the progressive wing of the Democratic Party have lamented the state of the primary race. They see Yang and Adams, the two leading candidates, as too centrist for a party that has been moving steadily leftward in recent years.
But the poll found that left-leaning voters are far outnumbered in the primary electorate.
Only 22% of likely voters said they consider themselves more progressive or left-leaning than the Democratic Party. By contrast, 59% say they're generally in line with the party and 18% say they're more centrist or conservative than the party.