NEW YORK — Mayor Bill de Blasio on Friday said New York City was on the road to recovery.
"Really this is something to celebrate," de Blasio said during his weekly radio interview with Brian Lehrer on WNYC on Friday.
---
What You Need To Know
NYC's COVID-19 positivity rate, according to the NYC health department, fell to 2.41% on Friday


A seven-day average positivity rate of 2.41% for NYC is the lowest percentage recorded in the last six months


When looking at the data by neighborhood, the Upper West Side had the lowest COVID-19 positivity rate in the city at 0.35%
---
The seven-day average COVID-19 positivity rate, according to city's health department, fell to 2.41%, the lowest positivity rate recorded in the city over the last six months.
It's encouraging news that epidemiologist Dr. Denis Nash said should be taken with a grain of salt.
"It's quite possible that the testing rates and the number of cases that we see now don't really reflect what's happening citywide," said Nash, a professor of epidemiology at the City University of New York (CUNY). "It really reflects what's happening in the group that's testing."
Data from the state indicates that the number of tests in New York City have stayed consistent, even as it rolled out its vaccination effort.
On the Upper West Side, the data appears reliable as testing remains high and the neighborhood still has one of the lowest positivity rates in the five boroughs at only 0.35%: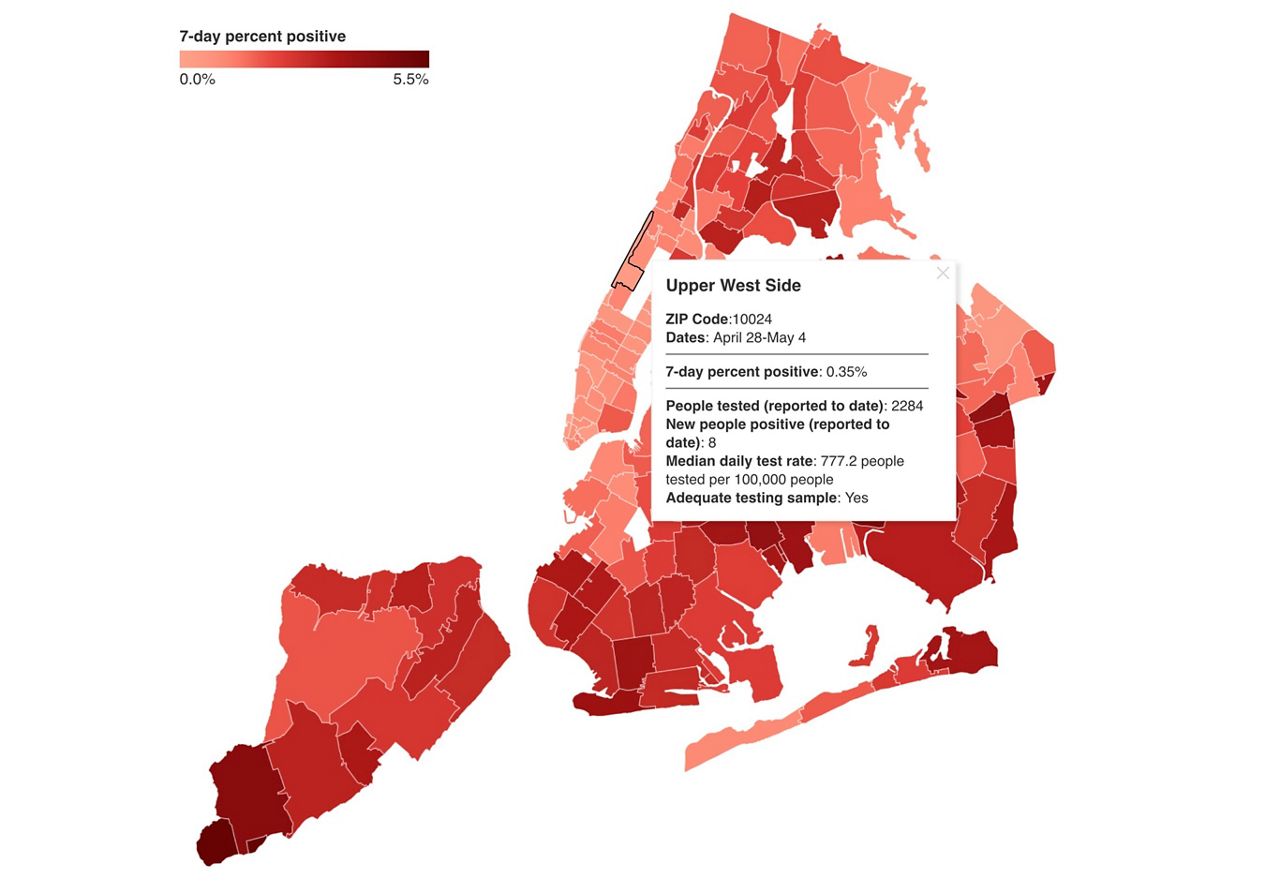 "I think we're all just so eager to get out and see one another again and get back to doing the things that we love," Upper West Side resident Michelle Duda said.
City data also show a significant portion of the population on the Upper West Side has been vaccinated. 76% have had at least one dose, and 64% are fully vaccinated.
"All my employees have been encouraged and they are all vaccinated," Upper West Side business owner Adam Geisler said. "All my friends, my family, and we celebrate it."
Anecdotally, while NY1 was in the neighborhood on Friday night, we noticed that most of the people walking around were still wearing masks while outside.
"Its just such a great community here," Upper West Side resident Albert Imperato said. "So that sense of community means everybody chips in, everybody does what they need to do to make it work."
Even the neighborhood's youngest residents seem to know the COVID-19 facts.
"I think people are wearing masks but they have to remember that even though you have the vaccine, you have to wear a mask," 10-year-old Sloane Lytle said.
Nash said another reason the neighborhood had such a low rate likely had to do with the socioeconomic makeup of the people who live in the area.
"There are probably fewer people that have to go to work every day on the subway with public transportation, work places that may not be as safe, and more people that are able to work from home," Nash said.
Residents themselves agreed with his assessment.
"I think it's an older neighborhood, a lot of professionals and pretty conscientious as well," Mark Pollard said about his Upper West Side neighbors.
There are some other positive signs: City data released on Friday show all the COVID-19 indicators that the health department tracks are decreasing. So, in addition to a decline in the city's positivity rate, hospitalizations and confirmed deaths are also decreasing.
------
Did you know you can now watch, read and stay informed with NY1 wherever and whenever you want? Get the new Spectrum News app here.
-----
Further Coronavirus Coverage
What to Do If You Test Positive for COVID-19
How Hospitals Protect Against the Spread of Coronavirus
Coronavirus Likely Spreads Without Symptoms
Coronavirus: The Fight to Breathe