While New York City is still grappling with the coronavirus pandemic, a Spectrum News-IPSOS poll finds a majority of residents — 64% — see a future for themselves in the city. Twenty-four percent do not.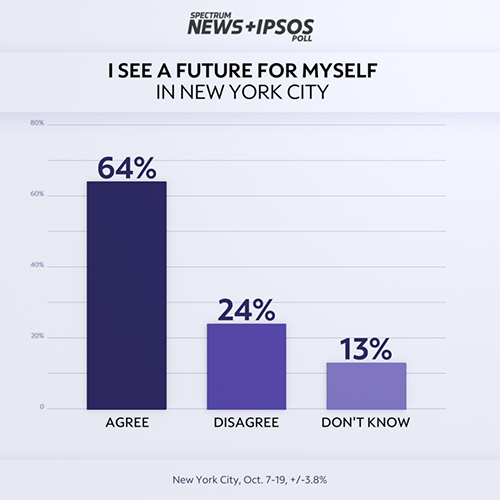 Poll respondents Peter Robinson Jr. and Kathlene Hernandez were both born and raised in New York. They're split over their prospects here.
"The city for me is an exciting place, always, has always been," Robinson said. "There's nothing that can take me away. I've tried."
When asked specifically by a reporter about the COVID-19 pandemic, his answer was the same.
"No. This is my home. New York is my home," he said.
Hernandez disagreed.
"I kind of want to leave the city, now that I think of it. Because here, it's like not a lot of houses, it's expensive and it's not really worth it, you know?" she said.
The poll shows most New Yorkers do not believe a recovery will come in the short term. Seventy percent say that it will take six months or longer for the city to get back to normal — with 39% saying they think it will take longer than a year. Just 19% see it taking less than six months.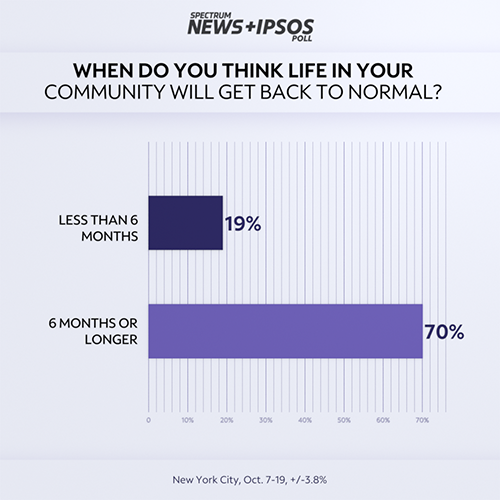 "Polls just in general are important because they're our best way to capture the voice of the public at scale," said Chris Jackson, a senior vice president at IPSOS.
Most residents say they're fine with the many precautions in place — with just 36% saying they're too restrictive. Fifty-eight percent say they're not.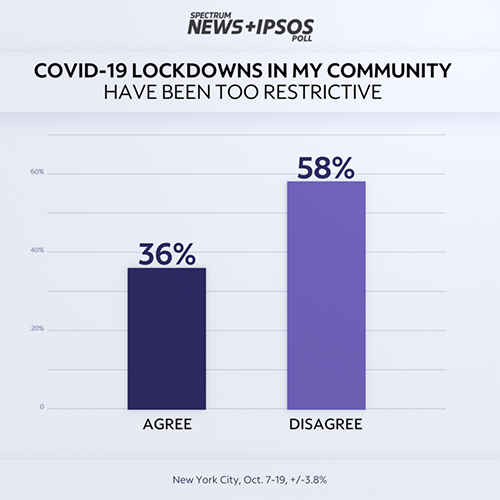 When it comes to mass transit, people are nearly evenly split — 48% to 47% — on whether they feel comfortable taking the subway or bus.
And 56% say they're not comfortable dining inside a restaurant.
Poll respondent Tracey Simpson encouraged her fellow New Yorkers to return to their routines, slowly and safely.
"Even if you have fear, you have to sort of plow through it, get any kind of help that you need," Simpson said. "It's not going to be the same. And I understand people have anxiety, but I think you have to sort of work through it and try to get back to some normalcy."

Even with New Yorkers appearing hopeful in their city's comeback, the pandemic is taking its toll financially. Forty-nine percent say they're having trouble — or have had trouble — paying their bills as a result of COVID-19 while 46% haven't.
The online poll of 850 city residents was conducted between October 7 and October 19. Its results are +/- 3.8 percentage points.
Later today, we will tell you what New Yorkers think of Governor Andrew Cuomo and Mayor Bill de Blasio, as well as their handling of the pandemic. Watch Inside City Hall at 7 p.m. and check the Spectrum News app for more on our exclusive poll all week.