Governor Andrew Cuomo and Mayor Bill de Blasio are often not on the same page when it comes to the coronavirus. It turns out, neither are New Yorkers' feelings about the two Democrats.
An exclusive Spectrum News/Ipsos Poll finds that 73% of city residents approve of the way Cuomo is handling the COVID-19 crisis, while 21% do not.
While still positive, de Blasio gets lower marks. Fifty-two percent approve of how he's handling it, versus 39% who do not.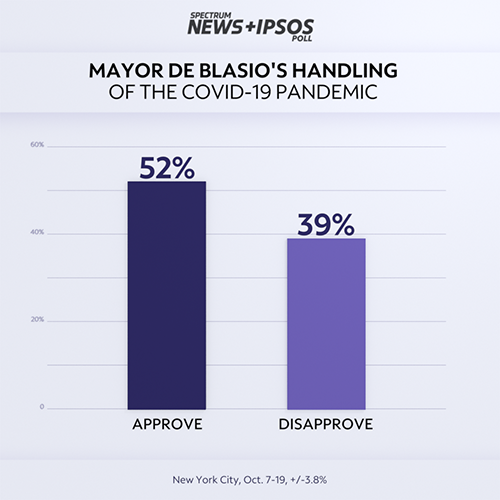 The mayor and governor have their own ways of doing things, but both express confidence that New York will recover.
"Let's get this problem out of the way and go back with the extraordinary progress we were making in terms of restarting this city," de Blasio said earlier this month.
"You can knock us down, but we get up, we dust ourselves off and we come back stronger than ever," Cuomo said late last month. "That is the definition of being a New Yorker."
Cuomo and de Blasio's ratings on COVID-19 track with their overall job approval.
In the city, 71% approve of Cuomo's handling of his job as governor, while 21% disapprove.
Forty-nine percent approve of de Blasio's handling of his job as mayor, while 43% disapprove.
Cuomo's handling of nursing homes, which bore the brunt of loss of life during the pandemic, has been closely scrutinized. But the poll shows 58% of city residents approved of his COVID-19 nursing home policies, while 30% disapprove.
Poll respondent Peter Robinson Jr. says Cuomo knows how to use his "bully pulpit."
"Cuomo, who's very sympathetic to everyone, it seems like, is nothing but a bully," Robinson said. "His father was a bully, he's a bully. But he's getting things done. And he's saving us."
City residents were also asked how the federal, state and local governments are handling the coronavirus pandemic.
Sixty-three percent rated the state's job as excellent or good, and 56% rated the city's handling as excellent or good, but only 40% said the same of federal leaders.
The online poll of 850 city residents was conducted between October 7 and October 19. Its results are +/- 3.8 percentage points.