Eric Adams has surged to the front of the pack, overtaking Andrew Yang and building a six-point lead in the Democratic primary for mayor, according to the exclusive results of a new Spectrum News NY1/Ipsos poll.
The poll found Adams leading the field with 22% support from likely Democratic voters, compared with 16% for Yang. Kathryn Garcia leapfrogged up to 15%, marking a dramatic turnaround for the former sanitation commissioner, who registered just 4% in the NY1/Ipsos poll in April. That placed her last among the eight leading candidates.
The findings could signal trouble for Yang, who's been slipping in recent polls after enjoying front-runner status for the past several months. He led the race over Adams, 22% to 13%, in the April poll.
The latest poll, which surveyed 906 likely Democratic voters from May 17 to 31, found Scott Stringer in fourth place with 10%, followed by Maya Wiley at 9%. Dianne Morales, Ray McGuire and Shaun Donovan all remained mired in the mid-single digits.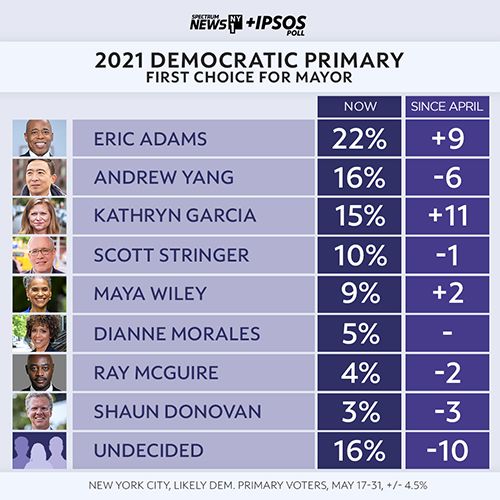 The poll reflects a bump in Garcia's popularity following the endorsements of The New York Times and the New York Daily News editorial boards. Polling took place prior to more recent developments in the race, including a second allegation of sexual misconduct against Stringer, and Wiley landing the coveted endorsement of Rep. Alexandria Ocasio-Cortez on Saturday.
The numbers also show New Yorkers more attentive to the primary and beginning to firm up their opinions in the race's final weeks. Just 16% of likely voters are still undecided on their first-choice candidate, versus 26% in April.
The primary is June 22, with early voting beginning June 12.
That increased awareness has eroded what was perhaps Yang's most critical advantage up to this point: a level of name recognition that far surpassed that of his opponents.
Eighty-five percent of voters say they are very familiar or somewhat familiar with Yang. That's still highest among the eight candidates, but others have closed the gap: Scott Stringer is now familiar to 77% of voters, with Eric Adams at 73%.
While Kathryn Garcia is familiar to just 54% of voters, that's a sizable jump compared to April, when she was known to just 29%. The candidate least familiar to voters is Dianne Morales, at 35%.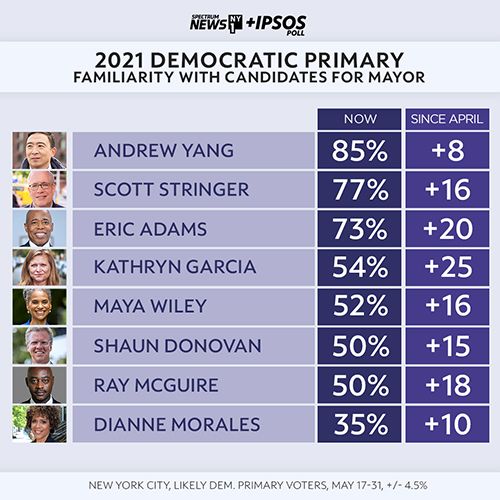 The NY1/Ipsos poll has a credibility interval of +/- 2.4 percentage points. The credibility interval is +/- 4.5 percentage points for likely Democratic voters.