Former NYPD Officer Peter Liang has been sentenced to five years probation and 800 hours of community service in the shooting death of Akai Gurley.
Brooklyn judge Danny Chun handed down the sentence Tuesday afternoon after reducing Liang's manslaughter conviction to criminally negligent homicide.
Liang spoke briefly, saying the shooting was devastating and that his life is forever changed.
"I apologize to Ms. Butler and the family. I wish I could undo what happened," he said.

Gurley's domestic partner Kim Ballinger and his girlfriend Melissa Butler gave victim impact statements.

"I'm hurting more than anything in this world," Butler said. "Akai took his last breath and died in my hands. It is killing me to know I will never ever be able to see Akai or his voice again."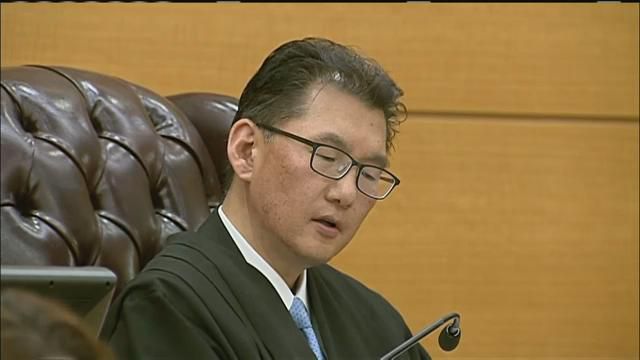 Liang was found guilty in February. He had faced up to 15 years behind bars on the manslaughter charge, but the Brooklyn District Attorney recommended probation and community service instead of prison time.
Though Brooklyn DA Ken Thompson did request probation, he disagreed with the judge modifying the verdict.

"A trial jury heard all the evidence and convicted Peter Liang of manslaughter," Thompson said. "And so what we will do now is, we will file an appeal. We will fight to keep that manslaughter conviction in place."
Defense lawyers tried to get the verdict thrown out after they said a juror lied about not having any family members who were convicted of a crime. But after two days of hearings last week, the judge in the case allowed the conviction to stand.
Throngs of protesters and supporters gathered outside of the courthouse Tuesday.
After the sentencing, members of Akai Gurley's family, flanked by Assemblyman Charles Barron, told reporters they were not satisfied with the judge's ruling.
"Today, justice was not served," said Gurley's aunt, Hertencia Petersen, outside the courthouse Tuesday afternoon. "Another black man has been murdered by the police department, and the officer is not being held accountable, and we're going to continue to fight until we get justice."
Supporters of Liang say he is being used as a scapegoat by the department.
The case is not over. The defense and the prosecution are both appealing.